In Guatemala, local captains buy our cool fishing boat names!
Boat lettering for Monkey Business 2, a professional fishing boat in Guatemala. Premium black vinyl lettering. The captain of this sport fishing boat wanted something with monkeys in the name, so we put together this fantastic idea—another unforgettable boat name was designed and installed by Designs & Signs. Don't hesitate to get in touch with our team for a quote.
Fishy boat names are a good idea too.
Here's another fantastic sport fishing boat that we lettered – Vinyl Boat Name – Bite Me. Every great finishing boat needs a unique fishing boat name or fighting fish image. The tuna, marlin, shark, and rockfish will always be popular with Anglers worldwide and right here on the Chesapeake Bay. Of course, if you name your fishing vessel Monkey Business, then it makes send to have a remarkable-looking cartoon monkey right on your boat. We must incorporate the image into the lettering as we do not want it to look afterthought. Pictures and letters, we always combine them creatively to create a cohesive idea. One name and one graphic, together in perfect harmony, to make your boat look special!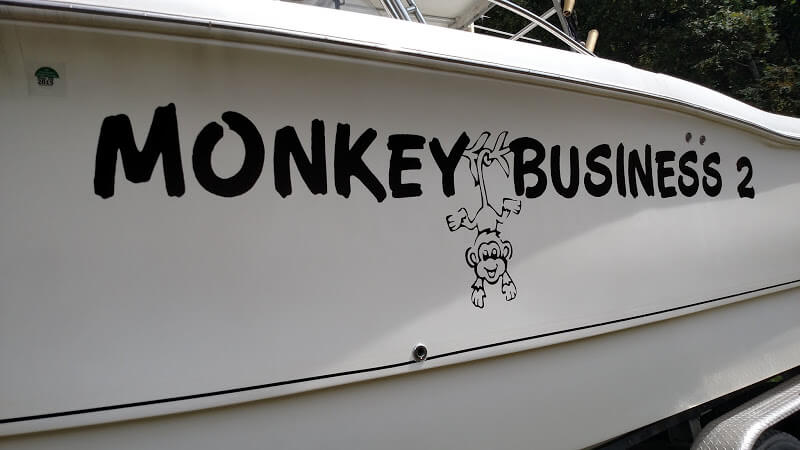 More Creative Boat Lettering
Life Rings & Quarterboards Too
If you want to catch the big fish, you had better go to work with your boat appropriately dressed! A great finish boat name brings good luck. Anglers will remember your ship if you do the right thing and give her an eye-pleasing name that is both fun and original.