Witty boat names are always in fashion.
Witty boat names are trendy and sure to please. This punny boat name is made even better by the visual impact of custom images on the transom. We managed to create a pane of glass with the name reflected in the glass. It's hard to say what this name might mean rather than offering an incorrect explanation. We'll leave it up to your imagination. This witty boat name might have more than one meaning.
If you go out on a limb with a punny unique boat name, please be sure that the meaning is not too personal, as you'll have everyone asking you about the boat name, and you'll have some explaining to do!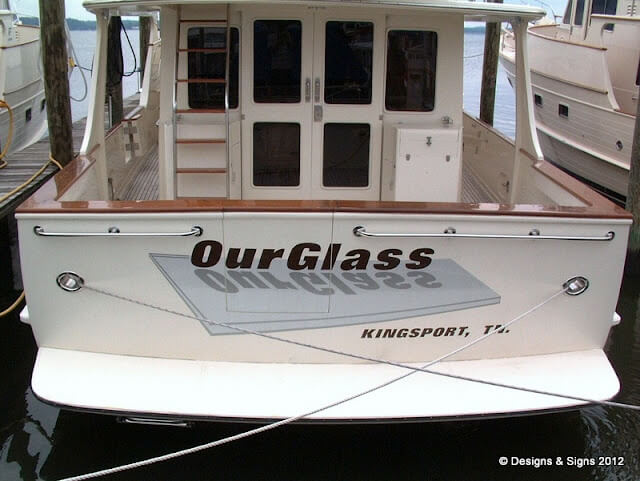 What is a pun?
A pun is a great way to make a witty boat name that is both unique and memorable. A pun is a double meaning of any word. We think you can probably see two puns in this name, our and hour for sure, in the photo above. In addition, glass also has a double meaning, as an hourglass is very different from a sheet of glass. However, the transom shows a sheet of glass with the name reflected onto the glass.
Is your boat name going to be too weird?
For sure, you don't need to worry about that! We've seen it all. Over the years, we have painted many witty boat names. Some are sexy, others funny, and some for which we have no explanation! So, however strange your boat name idea might be, don't be afraid to ask us if we can make it work. Often, we can take your original idea and then suggest changes that might make it turn out even better than you had hoped!
Please take your time when you review our site. Our photo collections are extensive, and we have provided pages upon pages of revelation information. If you see anything you like and want to know more, email us, and we'll respond quickly!