Choose your boat name font wisely.
A sporty font and graphics come together nicely on this transom. First, the black outline is applied, and then the blue letters are used on top of it. Simple but great looking! Bite Me! A custom vinyl boat name we installed many years ago at Anchor Yacht Basin in Edgewater, MD.  Every sport fishing boat should look this good! At Designs & Signs, we are doing our best to make that happen! First, we provide our customers with fonts to consider. For this purpose, you'll want to choose your font wisely. A boat name will last for ten years, so you'll want to be sure that you are happy with your final decision.
A mean fish graphic makes any boat name look great!
In addition, we can incorporate other graphics into the design. We use only premium vinyl for all of our custom vinyl boat names. We also offer luxurious gold leaf and silver leaf films. Primarily, we use only three finishes for gold leaf boat name films. Florentine
Do you have questions? Please email us!
Perhaps, you are on the fence about your new boat name. If you have any questions, please give us a call (unlike this shark). We don't bite! We can advise you and quickly send you a quote. Choose Designs & Signs to handle your boat name from start to finish. Our team also provides name removal and compounding services.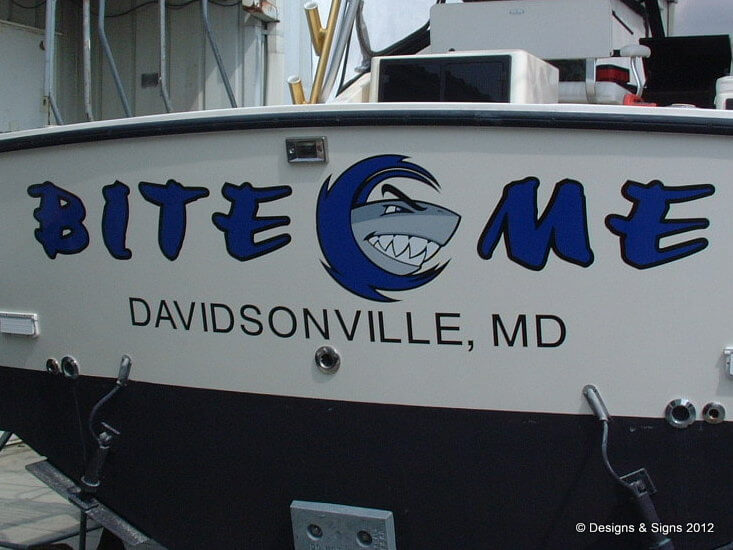 We make vinyl boat names, quarterboards, and life rings.
We offer matching quarterboards and life rings for your fishing boats, yachts, and sailboats. If you already have a name on your transom, send us a good photo. We can always recreate your boat name and use it to make teak name boards and personalize ring buoys for you. Mahogany boars are also for sale. Finishing all of our boards with gold leaf is our priority. The letters on your boards, we can carve them or not, that's up to you. Your boards will look sharp with dazzling gold leaf. Our life rings, too, are dressed to impress, with actual gold leaf film or silver leaf. The choice is yours!