Boat lettering, quarterboards, and life rings!
Boat Lettering by Designs & Signs; we are well-known in the Annapolis area for our boat names, quarterboards, and custom life rings. Don't settle for less when you want to improve the look of your ship, we can do it for you quickly and we'll even offer quarterboards and life rings to match your transom lettering. We are the only boat lettering company in the area to offer this complete service package! Let us design your next custom boat name. We get it right every time! Using only the highest quality materials, we'll take your project from start to finish and get you back on the water quickly! With decades of design experience, we can make your boat look great!
First, we'll send you fonts to review.
Once you commit to working with our company, we can quickly provide you with fonts that are stylish or traditional, and always appropriate for boat lettering. When you choose a font we can provide drawings for review or a mock photo. Finally, when you approved the drawing we are able to schedule your installation. Usually we will only work on boats that are out of the water. However, if your vessel has a suitable swim platform we can work from that to letter your transom. We also offer removal and compounding services.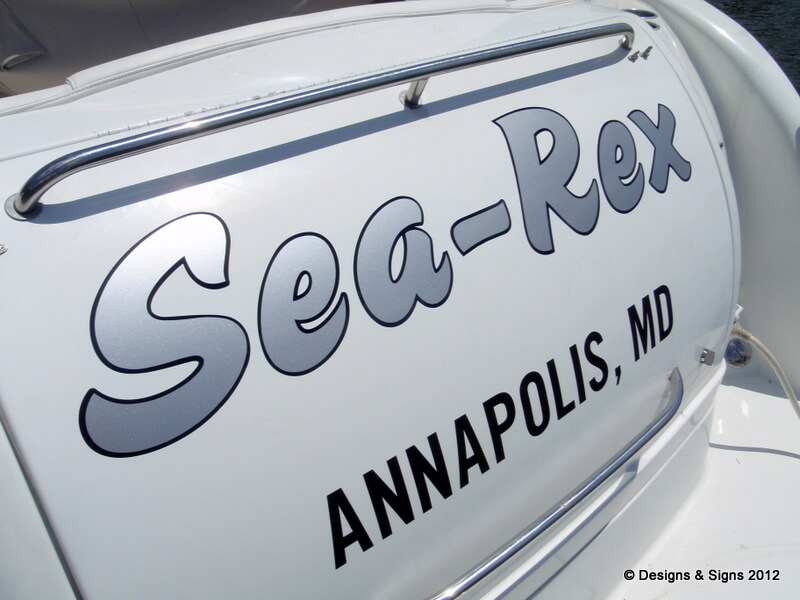 A Sea Ray Named Sea-Rex, Boat Lettering.
With great care, we install metallic silver boat lettering with black vinyl outline and black port. At Designs & Signs, we create and install the best custom boat names in the Annapolis area! We also make quarterboards, gold leaf boat names, and personalized life rings!