These beautiful carved teak quarterboards are shaped and carved by hand. We use only the finest 23 karat XX Gold Leaf. We clean the boards first with teak cleaner to release the oils before varnish. We use Awlgip Awlspar OM3131 Varnish.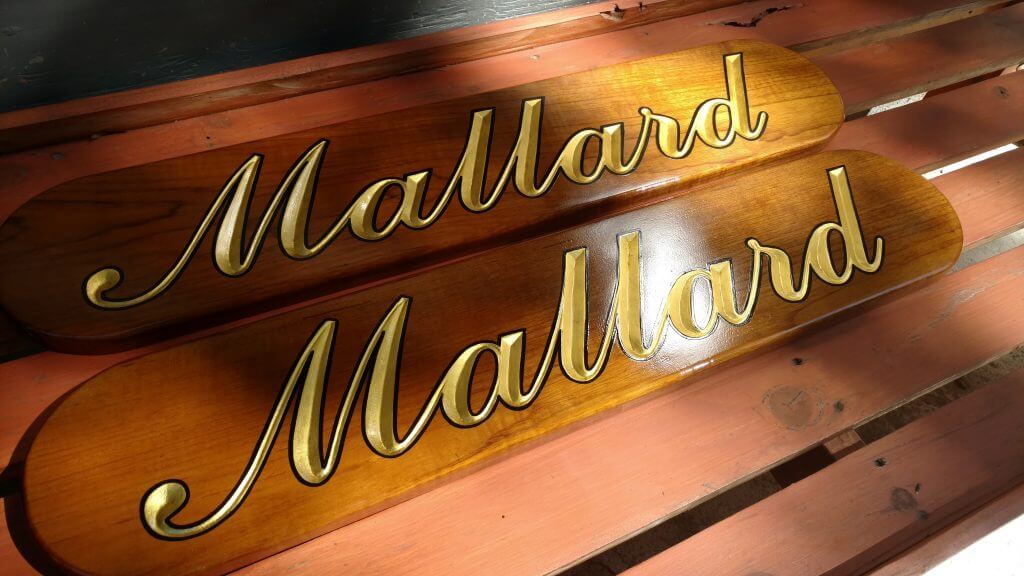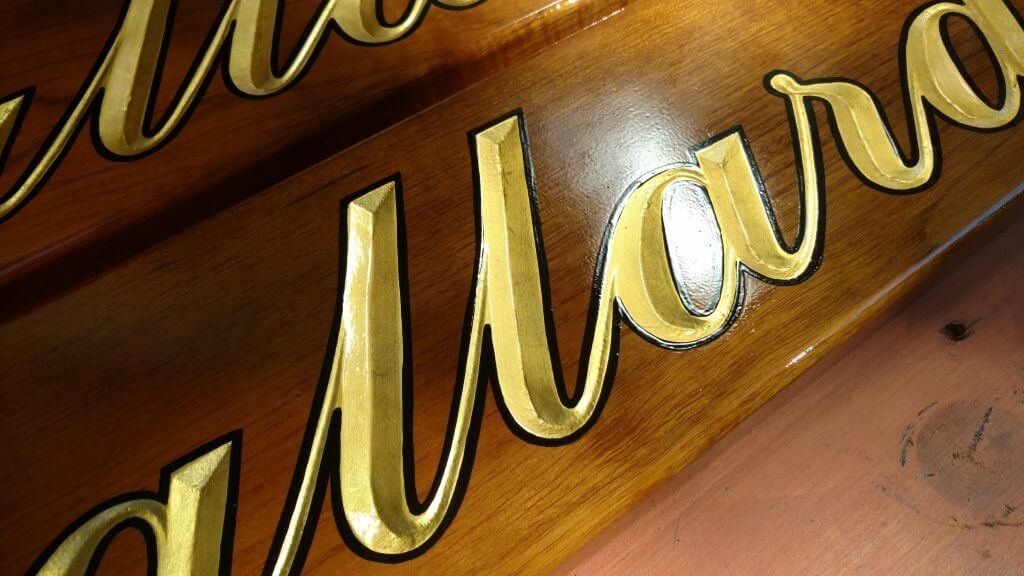 Amazing Detail – Hand-Carved Teak Quarterboards!
Hand made teak quarterboards designed and manufacture for Mallard, a luxury cruising yacht. The boards are designed on the computer and then a pattern is created with our xy pen plotter. Our carver uses the patterns to lay out the boards before he begins carving. After carving the letters are sanded and varnished multiple times. Then the gold leaf is applied by hand. This is also a time consuming, exacting process. During carving and gilding no mistakes can be made.  After gilding is complete the letters are lightly polished with cotton and then given a water based clear coat. The outline is painted on by hand and when everything is good and dry, the boards are finished with at least four more coats of varnish. With regular upkeep of the varnish these boards will keep looking good for many seasons to come!
Get your Own Custom Teak Quarterboards
We at Design & Signs pride ourselves in our craftsmanship and work in creating our custom made teak quarterboards. We continue the centuries-old tradition of hand-carving ship names and applying our 23 karat gold-leaf paint with applicable shading and outlining. We apply proper finish to make the wood as smooth and fanciful as our signage. All of this to make your ship name stand out and have a glimmering sense of maritime tradition to accompany your ship. 
Interested in getting getting your own custom quarterboard? Send us an email or call us to get a quote and assistance to find the right design and style for your boat.