We carve beautiful teak boat nameplates by hand. All of our gold leaf is 23 karat XX gold. Before varnishing, we clean the boards with a teak cleaner to release the surface oils. We use Awlgip Awlspar OM3131 Varnish. Teak wash exposes some of the surface grain, allowing the varnish to create a more physical bond. Teak oils are good for preserving the sign but bad for supporting a solid, lasting varnish coat.
Teak is the hardest and most durable of the hardwoods. It is suitable for making signs that will last for years. This material has been used in shipbuilding as far back as the Middle Ages and is still used today in the construction of ships, yachts, and boats. 
The weather does not affect TEAK.
This is one of the few kinds of wood in the world which has a natural oil that repels water, preventing the wood from warping, cracking, or becoming brittle. As a result, teak signs will resist the harsh effects of hard rains, severe winter snowstorms, and scorching sun without deteriorating.
The wood is resistant to insects.
In addition to protecting against harsh weather, resins and oils work as repellents against insect pests. When you buy boat name boards made of teak, pests will not be an issue.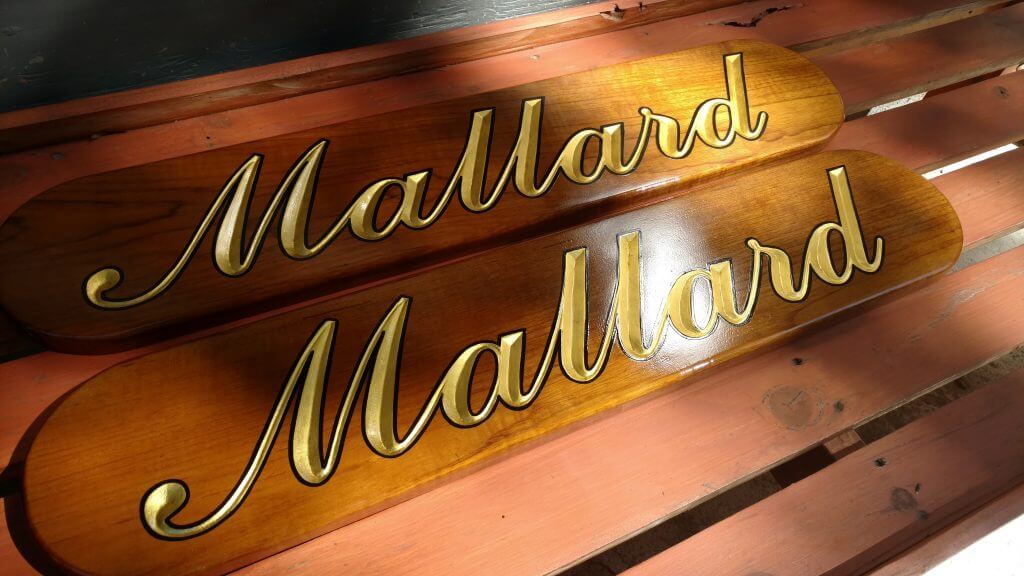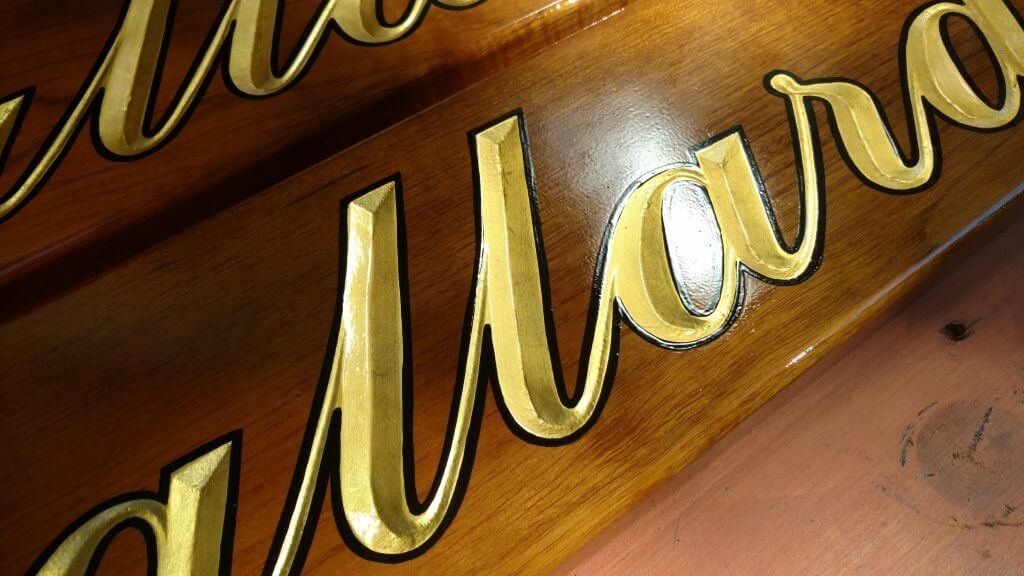 Incredible detail on our teak boat name boards
We made new teak boat nameplates span teak boat nameplates. We continue the centuries-old tradition of hand-carving ship names and applying our 23 karat gold-leaf paint with applicable shading and outlining. In addition, we use an excellent finish to make the wood as smooth and fanciful as our signage. All of this is to make your ship's name stand out and have a glimmering sense of maritime tradition.
Are you interested in getting your custom quarterboard? Please send us an email or call us to get a quote and assistance to find your boat's right design and style.