At Designs & Signs, we always love to make custom boat names. Each boat needs a new quarterboard sign, one mounted on each side of the vessel. What if my board requires a lamp cubby? We can build your custom quarterboard sign by hand, with or without a lamp housing. Mahogany and Teak; both are excellent choices for your nautical name boards. Every quarterboard sign needs a gold leaf , and we'll make those gold leaf pop when we apply a block outline. Our artists work with the gilders' tips and a fine lettering brush. Likewise, we use only the finest materials, gold leaf and palladium leaf, to name two.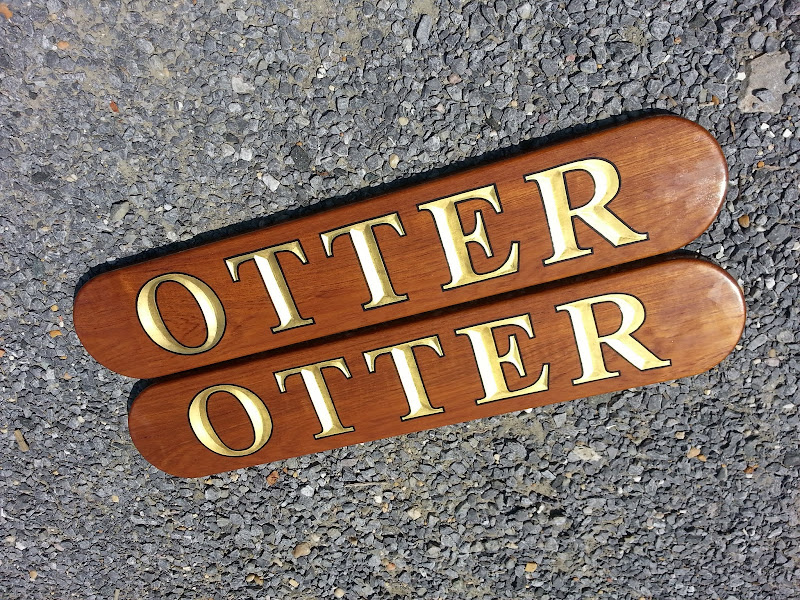 How to make a quarterboard sign.
Teak boards with incised letters; we carved these boards by hand with a chisel. Our carved, Howard Rogers, is the best around. He can reproduce any font with his hand tools. After shaping the boards, we apply many coatings of varnish. By necessity, we will sand the board after every three coats of varnish. 23 karat gold leaf; we'll use it on your boards, and we use it on many other types of signs as well, including life rings and boat transoms.
Please note that we do not always have to carve the letters. Usually, a flat gold leaf letter will look great. Whenever we make boards, we use gold leafso that even if we don't carve the letters, your quarterboard sign will still look incredible. Gold leaf catches your eye, so it follows that everyone else on the water will notice your pretty ship! Please take a moment to review our website.
Please get in touch with us for a quote.
We have posted many photos of our hand-carved quarterboards, gold leaf boat names, and other carved signs. If you are interested in carved quarterboards for your yacht, don't hesitate to get in touch with us for a quote! Thank you.