Quarterboard signs are handsomely carved ornamental sign boards, originally made for the ships whose names they bore. They were sometimes referred to as sternboards, the difference being the place on the ship where they were located. Many of the antique quarterboards come from the maritime trade of the 19th century when huge five and six-masted wooden sailing vessels carried cargo along the East coast of the U.S. Wrecks were common in those days and many of the quarterboards ended up ashore, either washed up on the beach or picked directly off the shipwrecks.
Quarterboards still tell stories as they did hundreds of years ago
Since 1815, maritime law has established that every ship and vessel have its name be marked on her stern. A ship's captain might call upon a woodworker to carve its name into the ship itself. This would also require the painting of black lining to help distinguish the name from the other parts of the ship. Before too long, they started being painted in a gold-lining, to make it further distinguishable from a distance and to make the letting more fanciful.
As ships continued to evolve and new developments were made, this tradition of having a ships name be easily visible on the stern still continues to this day. Albeit, it's not always done with gold paint, but the coloring and font still have the function of making the name distinguishable.
We at Designs & Signs continue this age-old tradition of providing quarterboards for ship sterns. We use gold leaf paint and apply shading and outlining to the name just as it was done centuries ago. We offer this same kind of service to you and will be happy to provide quarterboards of the highest quality and style for your boat.
Carved Quarterboards
Quarterboards shaped and carved by hand. We finish all of our hand-made quarterboards with 23 karat gold leaf, and the outline is applied with a lettering brush too. Let us make beautiful boards for your yacht!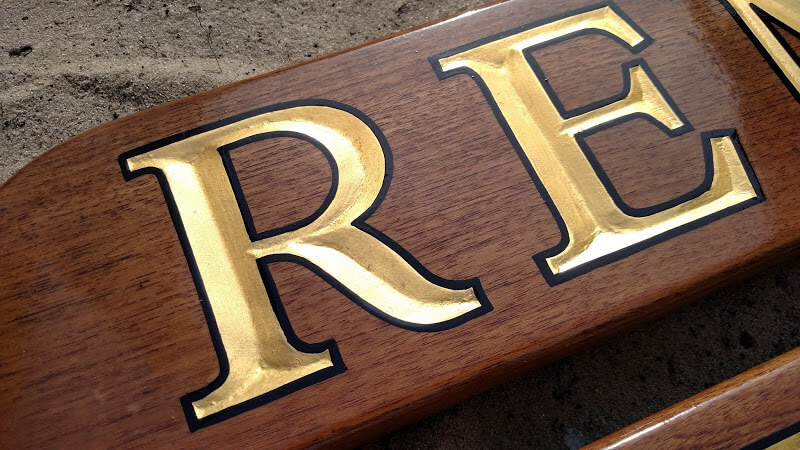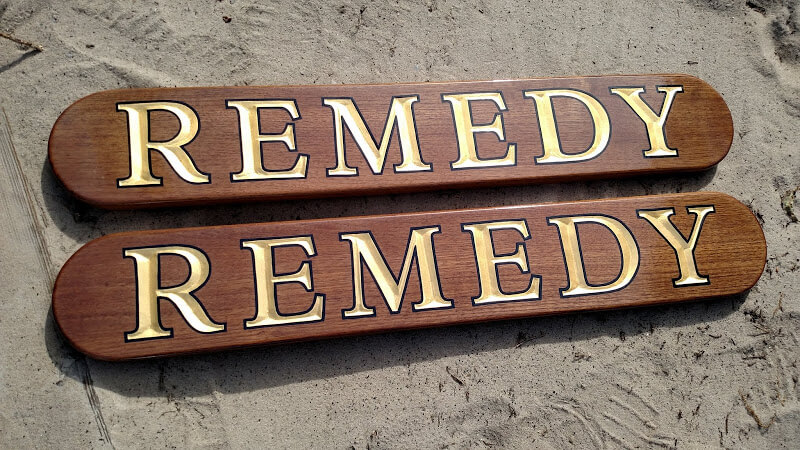 OUR QUARTERBOARD signs are always finished with GOLD LEAF!
Carved teak boards for Remedy. Carved by hand and sanded smooth. Varnished prior to building. 23 karat gold leaf applied by hand, with a hand painted outline. More coats of varnish to finish the boards. With regular upkeep of the varnish, these boards will last a lifetime.
---
We also make Gold Leaf Boat Names & Life Rings…