Custom Quarterboard Signs with Gold Leaf – Remedy
Quarterboards are handsomely carved and gilded ornamental sign boards, originally made for the ships whose names they bore. They were sometimes referred to as sternboards, the difference being the place on the ship where they were located. Many of the antique quarterboards come from the maritime trade of the 19th century when huge five and six-masted wooden sailing vessels carried cargo along the East coast of the U.S. Wrecks were common in those days and many of the quarterboards ended up ashore, either washed up on the beach or picked directly off the shipwrecks.
Quarterboards still tell stories as they did hundreds of years ago
The year is 1815. The battle of Waterloo happened where the British forces defeated Napoleon and the French, the US Library of Congress is re-established after a fire with Thomas Jefferson's 6,500 volumes and the world's first commercial cheese factory established in Switzerland.
It was also the time that maritime law dictated that every vessel have its name adhered to its stern. So the vessel's captain would call upon their wood worker and ask for them to engrave the vessels name and sometimes a decorative flourish on a board which would later be affixed to the vessel. Gold leafing was carefully applied to the incised lettering and flourishes to make it more readable at a greater distance.
Nowadays you see quarterboards on houses, sheds, boats and vehicles. Not all of them are gold leafed or have a flourish, but they certainly do stand out in a crowd.
Carved Quarterboards
Quarterboards shaped and carved by hand. We finish all of our hand-made quarterboards with 23 karat gold leaf, and the outline is applied with a lettering brush too. Let us make beautiful boards for your yacht!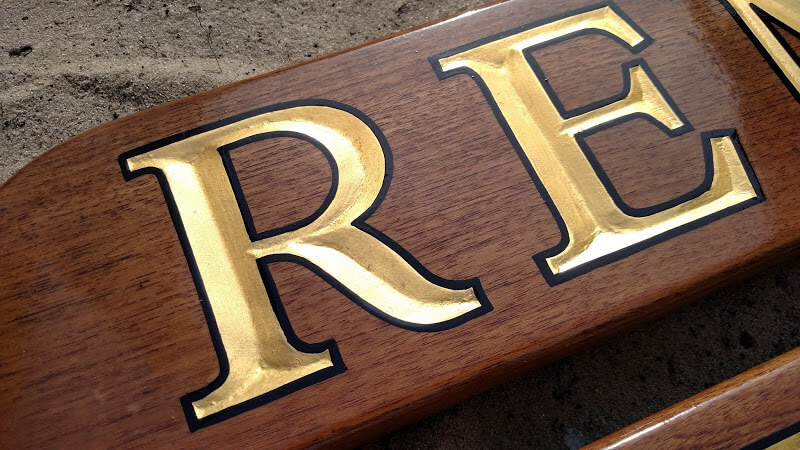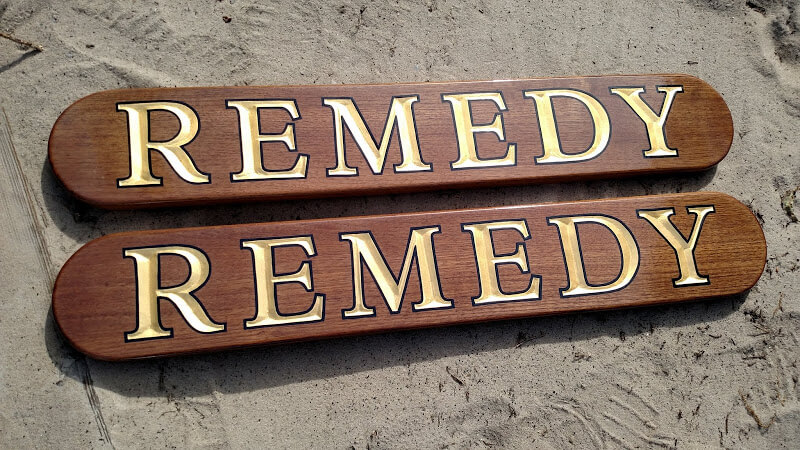 OUR QUARTERBOARDS are always finished with GOLD LEAF!
Carved teak boards for Remedy. Carved by hand and sanded smooth. Varnished prior to building. 23 karat gold leaf applied by hand, with a hand painted outline. More coats of varnish to finish the boards. With regular upkeep of the varnish, these boards will last a lifetime.
---
We also make Gold Leaf Boat Names & Life Rings…
---