Custom Yacht Lettering is perfect.
Fantastic engine turn gold leaf lettering looks excellent with a small custom logo too. Compass Rose, it's another beautiful installation of yacht lettering, gold leaf yacht lettering by Designs & Signs. We do our best to design every name with care to bring your great ideas to life. If you need a compass rose on your boat, we'll use one that works very well , and it will be easy for us to create it with vinyl. It's vital to understand the limitations of the materials we use, allowing us to choose designs wisely. Simplified images and silhouettes typically work well on boat names.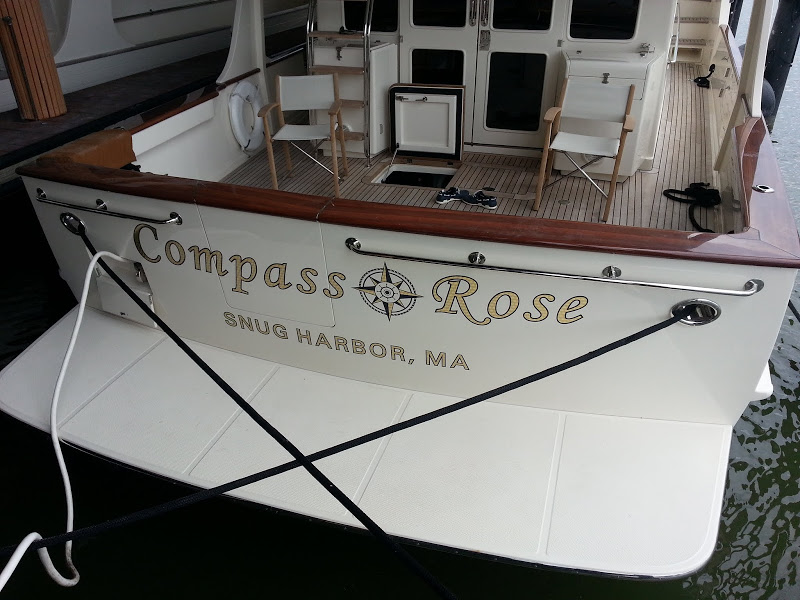 Cut vinyl graphics are better than printed ones.
Here you can see why this particular compass rose works so well. It has a perfect amount of details but not too much, and it can be separated into three colors, positive, negative, and in the foreground, we used gold leaf film to make it pop. Using the negative space (the color of the hull) as a third color is a valuable trick or habit that we have developed over the years, and it helps make your image blend into the boat. This cohesive appearance usually cannot be achieved with multi-color printed graphics.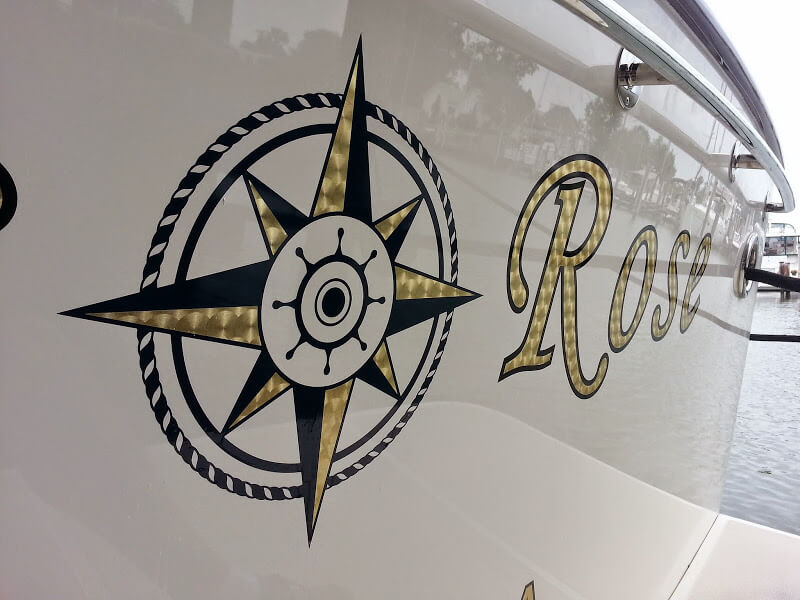 Get Some Gold Leaf Boat Lettering today!
Top grade boat lettering here, engine turn gold leaf film with an outline. A beautiful compass rose makes all the difference. Simple is always better when incorporating graphical elements into your boat name. Her name is Compass Rose. Another amazing Fleming Yacht outfitted at Burr Yacht Sales in Edgewater, Maryland. The full name looks excellent, with a custom compass rose placed right in the middle of the transom. Please take a moment to review our site. Hopefully, with so many great photos to see, it will help spark your creativity as you conjure up a name for your new ship!