We letter wooden boats at Mast and Mallet.
There is nothing more beautiful than an excellent wooden boat name on a pretty boat!  Mast and Mallet Boatworks hires us for many lettering jobs on their fancy yachts. The process requires a whole day to complete. First, you'll need to have someone at your marina prepare the transom by sanding it well. Next, it should be varnished well and sanded before we arrive to begin gilding. Then we apply the design to the transom with a pounce pattern and charcoal, creating the outline with charcoal powder. We follow those outlines when we use the size with a lettering brush. When the size begins to tac up, we apply the gold leaf. Finally, the size and leaf must be completely dry before we can polish the letters with cotton. Below, Brendon finished the lettering with a brush, applying outline and shadow to this boat name.
Your Yachts need life rings and teak signs too!
Your wooden boat name should look great. If you hire Designs & Signs for the job, you can rest assured that you'll receive only the best service and highest quality materials. We can even provide you with teak quarterboards and personalized life rings too. So your yacht will look great!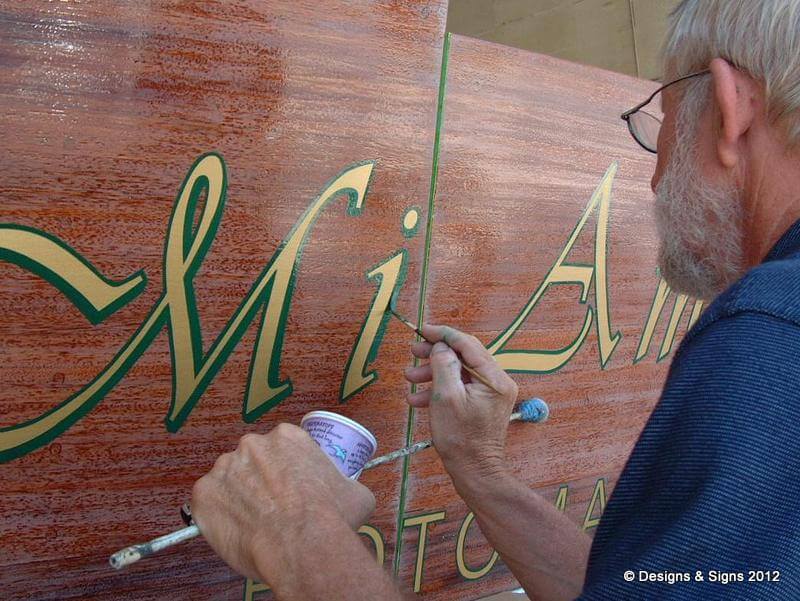 See photos of gold leaf boat lettering.