Brush script boat names are hard to install.
We apply Gold Leaf Yacht Lettering to the transom of Stephanie Marie. Naming boats is fun, we love to do it, and with so many years in the trade, we like to think we do it right, every time!  First, we stick the teal outline onto the boat, and then we carefully place the 23 karat engine turn gold leaf on top of the outline. Usually, we would put one gold leaf letter at a time, but we can't do that now. Take a closer look at the photo. Do you see the problem? Of course, with a script font, all of the letters are welded into one giant piece of gold leaf. Travis is good at this, though. He can lay these large pieces of gold leaf accurately every time, regardless of the high degree of difficulty. We letter Fleming Yachts for Burr Yacht Sales in Edgewater, MD.
We gild quarterboards, and life rings too.
We also offer custom hand-carved quarterboards and personalized life rings. Your yacht will look its best if all of the letterings matches. Your boat name, quarterboards, and life rings should all have the same name on them. We can do that with almost any letter style. If you already have a name on your yacht, please send us a photo, and we'll recreate that lettering for you to use on life rings and name boards as needed.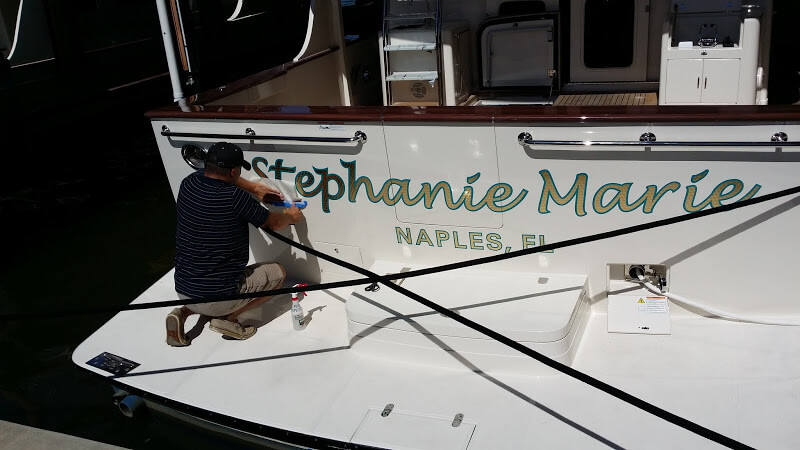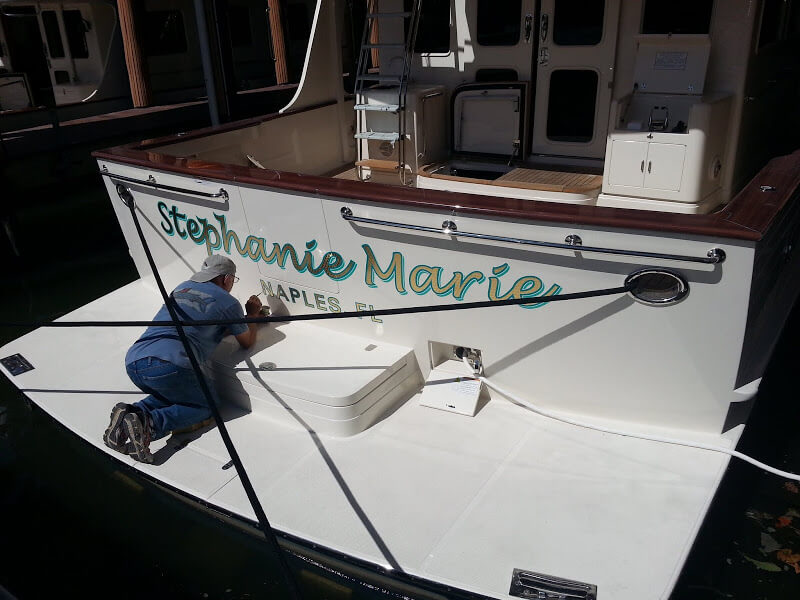 Contrasting colors add depth to your gold leaf yacht lettering.
Travis Brandon applies one more layer of color, a light green drop shadow! Shadows add another level of dimension to the lettering. Finally, the gold leaf letters sit neatly on top of the teal outline. The dark teal creates a nice contrast against the hull, which gives these gold leaf letters a sense of depth and dimension. Differences are visually pleasing. They frame each letter; contrasts grab your attention!
What about gold leaf on wooden yachts? We do that too!
We also create gold leaf boat names for classic wooden yachts. Audrey is a fine example of the traditional surface gilding – CLICK HERE TO SEE AUDREY!