Hire us today for the best gold leaf lettering for your boat. We can design your boat name and include images too. Some boat owners would like to use the image of a fish or a bird. We can always accommodate your requests. LIkewise, we have thousands of font to review. It can be confusing, so to make things easier for you we'll choose fonts that look particularly good. Then we'll show your name to you using just those fonts. Often we can provide 50 or more good looking fonts.
How do we make Gold Leaf Lettering for Boats?
We used to use pounce patterns to transfer the design of the lettering onto your transom. However, in recent years we have taken advantage of modern techniques, so it follows that we are able to apply the size (adhesive) to your boat using a stencil. This expedites the process and allows us to achieve greater detail and accuracy in our work. We apply gold leaf to the size and then we paint the outline by hand. That's how we Gold Leaf Lettering for Boats, but don't be fooled by this simple explanation. A traditional wooden boat name takes a full day to finish, between preparation and working at your marina. Good work takes time and we like to get it right every time on the firs try!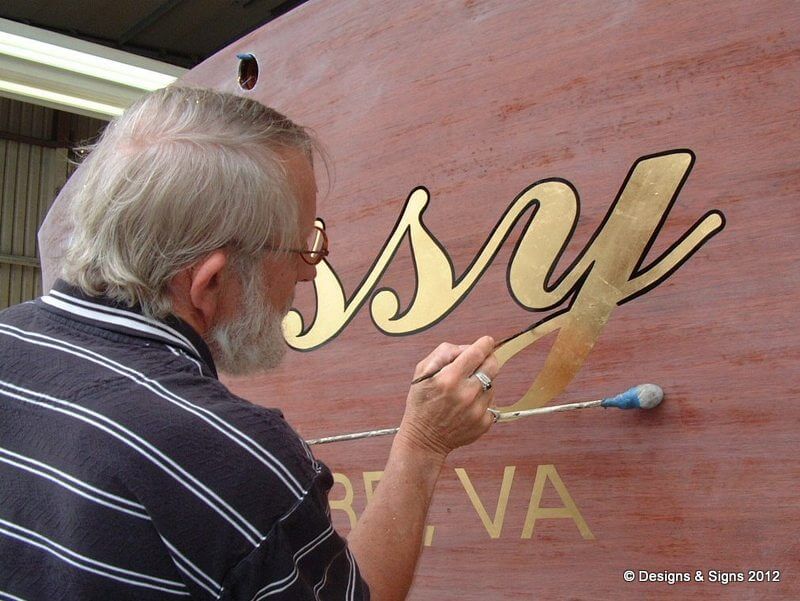 Brendon Brandon applies a gold leaf boat name to Bessy, a fine wooden boat designed and manufactured by Mast and Mallet Boatworks in Edgewater, Maryland. Without a doubt, Gold Leaf Lettering for Boats is what we do best. First, the name and port are applied to the transom with charcoal powder and a pounce pattern. Size is then brushed onto the surface by hand. As the size begins to set, the gold leaf is applied quickly by hand. The timing of this part of the process is crucial. If you lay the gold too soon, it will sink and crack. If you lay the gold leaf too late, it will not adhere completely to the size. After we set the gold leaf onto the size, now it is again time to wait. The size beneath the gold leaf must dry completely.
How do you burnish gold leaf?
Once the lettering is dry, we can polish it with cotton.  We brush the transom first with baby powder to prevent loose gold from sticking to the varnish. However, when we are finished with the lettering, it is almost always necessary to address small spots of gold leaf, which might stick randomly to other transom areas. We need to carefully remove those with a small abrasive brush or a damp cloth. Next, Brendon uses a fine lettering brush to render the black painted outline by hand. Finally, the entire transom receives additional coats of varnish. With regular upkeep of the varnish, the gold leaf boat name will last many years. Would you please take a moment to review more photos of our custom boat names? If you need the best name for your vessel, always choose our finest Gold Leaf Lettering for Boats.