Silver leaf yacht names & Florentine swirl gold leaf
Mimi is a great boat name, and it looks a lot like a Paisley boat name to me. Whenever we letter the transom of a luxury yacht with florentine swirl gold leaf film, it is sure to look great on the water and at your marina too. Gold leaf film looks great with a dark color outline. For this purpose, we always use navy blue or black. Rarely, our customers request burgundy or hunter green. Both colors also work well to create contrast against a light color hull. Most hulls are white or off-white. Occasionally, we put names on yachts with darker color hulls. If the hull is navy blue or dark green, we can use a white outline around the gold leaf letters to create more contrast. We also have burnished gold leaf, mirror leaf, and engine turn gold leaf available for purchase.  Likewise, we carry silver leaf films with the same exotic finishes.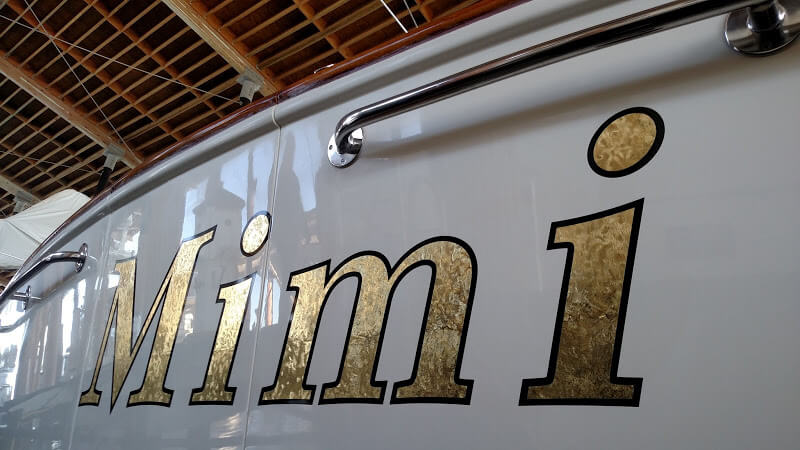 Wow, it's a paisley boat name!
We must use a florentine swirl 23 karat gold leaf when our customer desires the most creative options for paisley boat names. Florentine swirl is very much like a Paisley. The more traditional look would be engine turn gold leaf or burnished gold leaf. However, you really can't be wrong with gold leaf film no matter what you use. Florentine swirl is lovely. Mimi is top-notch, and her name leaves nothing to be desired. We are pleased to finish another fantastic Fleming Yacht at Burr Yacht Sales right here in Edgewater. It's always our pleasure to create and install breathtaking gold leaf boat names.