Classy Lettering on a Fleming Yacht
We designed and install this Florentine silver leaf yacht lettering with a black outline. Another fine example of boat lettering for a beautiful Fleming Yacht at Burr Yacht Sales in Edgewater, Maryland. Matching hand-carved teak quarterboards make Beba look sharp on the Bay. Her boards are finished with palladium leaf to match the transom lettering.
Choosing your boat name font should be easy.
First, we'll send you fonts for review. Please choose one font, not ten! When you decide which font you like best, we can send you a mock photo to give you a good idea of the placement and size of the lettering that we intend to install for you. Sometimes it is not possible to get a good photo of you boat, in which case a drawing with measurements will have to suffice. Once approved, we can usually install your name quickly. Custom films, silver leaf and gold leaf, take about one week to arrive at our shop. If you choose your film first, then we can finalize the drawings while the material is being delivered. Generally, we like to turn boat names quickly once a deposit has been made.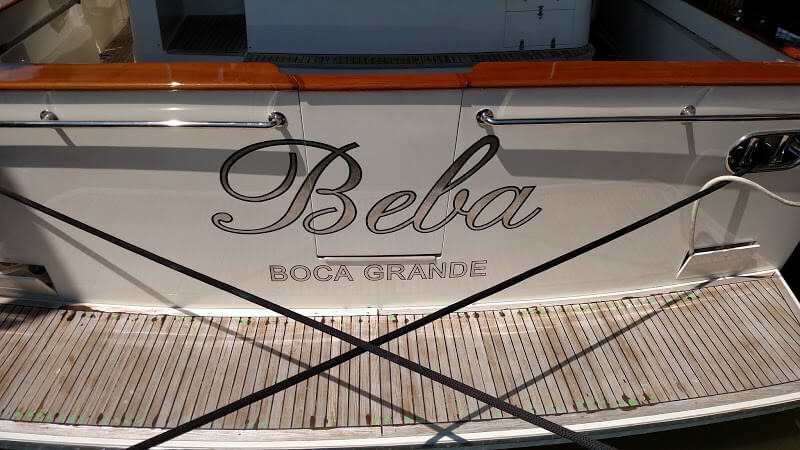 Florentine Silver Leaf Yacht Lettering!
We offer silver leaf films with different finished, florentine, engine turned, or burnished. They all look great, so you absolutely cannot go wrong no matter which film you select. We recommend an outline and shadow to be dark colors, such as black or navy blue. However, if your hull is dark blue then maybe a white outline would work better to create the necessary contrast; we want your gold leaf or silver leaf letter to pop!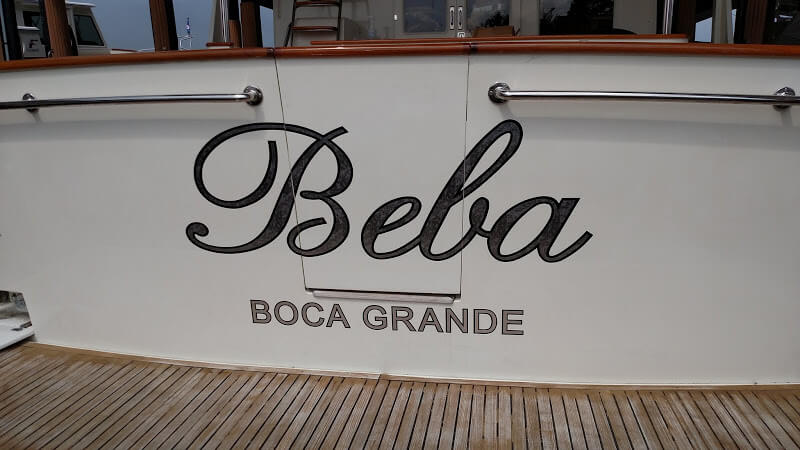 https://twitter.com/DesignsandSigns
Gold Leaf Boat Lettering & Life Rings.
Below, you'll find some more examples of our classy boat names, in gold leaf with various finishes and secondary colors. We make life rings and teak boat name signs to match your transom lettering. Please take a moment to preview our website; we think you'll enjoy it!