We make vinyl custom boat lettering the best.
Below, you'll see a great photo of some custom boat lettering for JADE, such a fine sailing vessel. We love to create exciting boat names and family boat names for sailboats and cruising yachts alike. If you take your time on our website, you are sure to find something that will spark your creativity. As always, we feel that boat names should be personal. Consider something in your life or value, and then figure out how to represent that with a word or two. Naming your boat name should be fun. If you need a second opinion on the names, just let us know. For sure, shorter names are better because we usually deal with size constraints on any transom. So it follows that longer names mean that the letters would have to be small, or we might have to condense the font. If you need some advice, email us, and we'll respond quickly.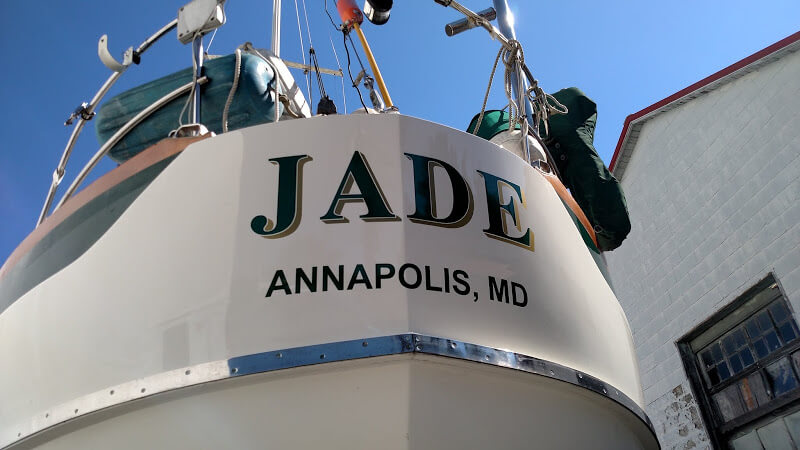 Boat names, quarterboards, and life rings too.
We do it all, from sailboats and powerboats to fishing boats and luxury yachts. Our customers often demand a complete revision of all the lettering on their vessels, so we provide quarterboards and life rings to match their transom lettering, of course. If you can provide a photo of your boat name, we can match it and use the new drawing to create other signs for your boat, teak name boards with gold leaf letters, and mahogany quarterboards. We can use gold leaf film on our life rings, another luxury accessory for any sailor or ship captain! Please don't settle for less when you need the best quarterboards available. When you buy from us, you'll know you are getting the best product available.