Are you looking for the best boat lettering service in Annapolis?
Your boat is more than just an object. It's also representative of an outdoor lifestyle. You might want to customize your boat to reflect your values, taste, and maybe even your love of boating.
We design and install custom boat names of every sort. We use only premium cast types of vinyl and other top-quality materials. We also have 23 karats gold leaf film and silver leaf film available with various finishes; engine turn, florentine, burnished, brushed, and chrome. Additionally, we provide matching custom life rings and hand-carved teak quarterboards with gold leaf. Generally, we service marinas and piers in Annapolis and Edgewater. We also offer traditional gilding by hand on wooden powerboats and wooden yachts.
Second Wind Annapolis
Boat names installed by Designs & Signs. When you purchase your boat name from Designs & Signs, we provide you with a selection of attractive fonts to review. We always advise our customers that more is not always better. A good font, even in one color, will always look great!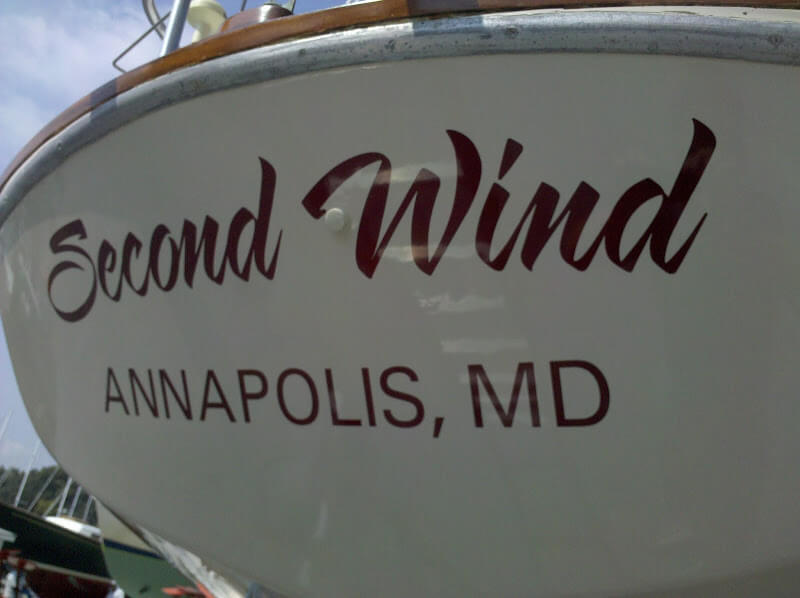 The process is relatively simple. First, we'll discuss your project by phone to sort out the details. If you can email us a photo of your transom, this is usually helpful. Next, we'll provide a quote to you by email. If the quote is accepted, we will send you fonts to review. Finally, you choose a font, and then we'll send you a finished scale drawing for approval before we finish the installation at your home or marina.
See more of our Gold Leaf Boat Names.