Teak or Mahogany, and Gold Leaf!
Perhaps you can call us old-fashioned because we always make our Hand Carved Quarterboards with teak or mahogany, and we do all of the work by hand. We never use CNC Routing to make our boards. Instead, we tool the letters like cave dwellers with a chisel! Then, we lay the gold leaf, like our daddies used to do. All jokes aside, we take great pride in our work, and we hope that this website will do it justice. Our artists always finish teak signs with 23 karat gold leaf. We clean the teak first, and we use varnish before and after gilding. If you would like to order carved boat name signs for your yacht, please call us or email us. We would love to get started on your luxury boat name project! Keep in mind that we also offer matching life rings to go with your teak boards.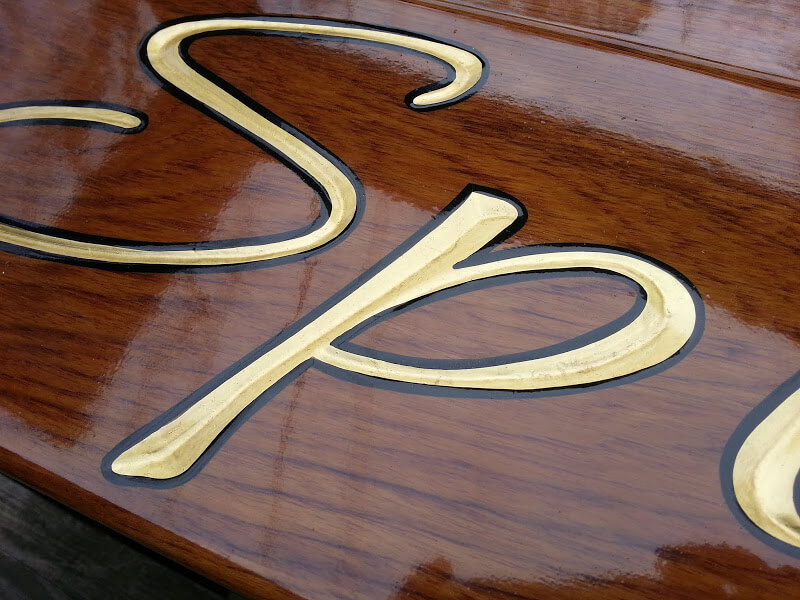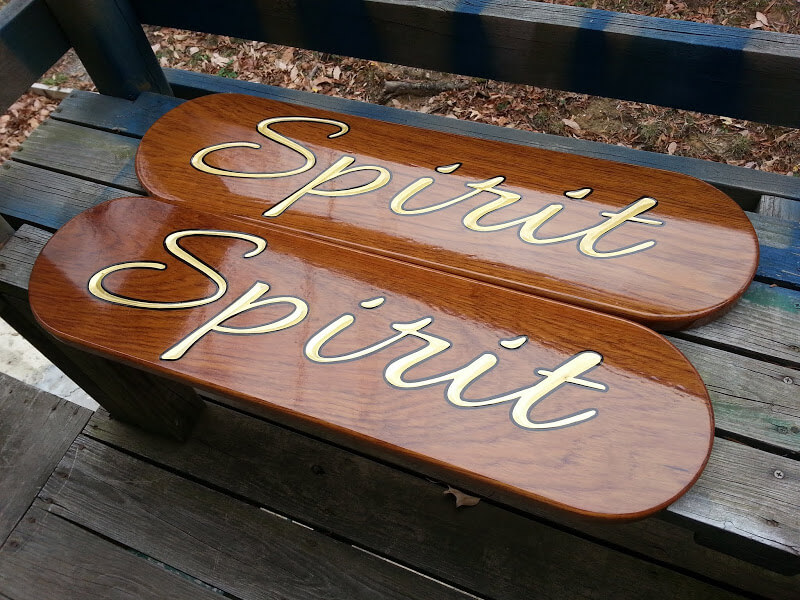 About the Hand Carved Quarterboards carving process
Teak quarterboards designed and carved by hand for Spirit.  First, we cut and shape the wood, and then we use a pounce pattern to transfer the design onto the board. Following these charcoal lines, we can carve out the letters with a chisel. There is no room for error! First, our carver tools the letters. Before gilding, we must sand the boards well and sometimes. Next, we use a burnish fill to smooth out the letters even more. After a week of varnish coats, the boards are ready for gilding. We use 23 karats double gold leaf. We size the letters, and as the size begins to dry, we carefully lay the leaf onto the tacky size. If the size is too dry, the gold leaf will not stick to the boards. If the size is too wet, the gold will sink. Again at this stage, there is no room for error.
We polish the leaf gently with cotton.
When the letters are dry, the gold leaf is polished lightly with cotton. Then a clear coat is applied over the letters. Once the clear coat is dry, we brush the outline by hand. After the outline dries, then we can layer additional coats of varnish. Occasionally check the varnish. If it appears dull, you should sand it and reapply one new topcoat. In harsh southern climates, you can do this yearly to protect the teak and the gold leaf, or if needed, you can send us the boards for regular service. If the varnish is allowed to fail, we would have to strip and refinish the signs altogether.