You choose; mahogany or teak boat name signs.
As you can clearly see, our teak boat name signs are the best? Perhaps, it's time to make new signs for your luxury yacht? Of course, we can help. First, contact us for a quote. We'll need to know the boat name and port, and the size of the boards that you need. We always provide three price points for our boards, with options for teak or mahogany, with or without carved letters. No matter which board you choose, we will always use gold leaf to make it look just right!
Review a custom font portfolio.
If needed we'll supply you with an extensive font portfolio. Of course, we'll narrow down a good selection of fonts that would work well for your particular boat lettering. Choose a font and then we can quickly send you scale drawings for review and revisions as needed. Before we can begin with this designs process you will need to provide a deposit for the job. Turnaround time can be three to four weeks, and the final payment will be due once the boards are ready to ship! We invoice the shipping to you at cost.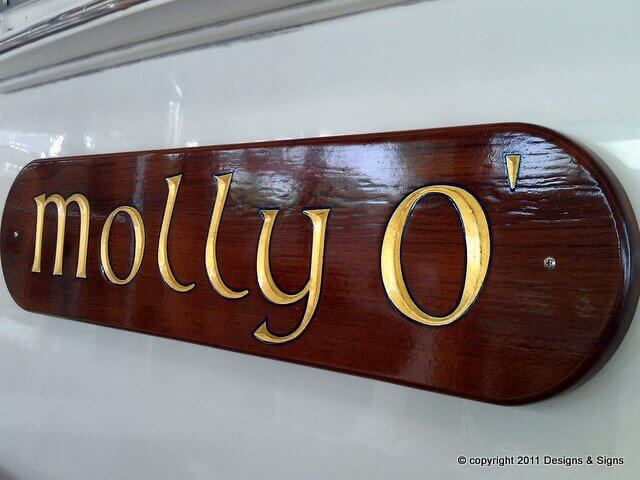 Spar varnish requires regular upkeep.
Teak Boat Name Signs will last forever if you want them to. Always be aware of the condition of your boards. Whenever you notice a change in appearance, that means it is time for action. You can send them back to us for service if needed. Also, feel free to undertake the work yourself it is not too hard to do. Give the boards a light sanding, and then simply apply a new coat of spar varnish or spar urethane. We use oil-based products so be sure to use oil-based clear coats too. This way there are no concerns regarding compatibility. Should have any questions about this please contact us we will be happy to assist you!