First, you choose a great font.
Our teak yacht signs will satisfy even the most discerning captains. Whenever we make our boards, we choose teak or mahogany, always looking for superior grain for appearance and carve-ability. In addition, all of our customers receive an extensive font collection to review. First, choose your favorite font, and then we'll send you a drawing based on your size requests or our recommendations. Sometimes, our customers will ship the old boards to us, and we can make new boards the same, with holes drilled to match. In this way, it is straightforward for you to install the new boards when you receive them.
We always use gold leaf.
With the best wood, we begin shaping, carving, and sanding. Finally, we finish all of our boards with gold leaf and a finely painted outline with or without carved letters. Of course, carved letters look best, but flat boards with gold leaf are no less impressive! In the photo below, one clearly sees the dimensional visual effect of carved letters. Before gilding begins, first, we wash your boards with a particular solution to reduce the surface oils in the teak. Because of this, the varnish will sink deeper into the wood grain, creating a stronger physical bond, which makes your boards last longer outdoors.
We inspect and touch up every teak yacht sign.
Next, we apply six or more varnish coats, then sand the varnish well before applying the gold leaf and painted outlines. We are sure to inspect each board closely with reading glasses to see if there are any spots in the gold leaf or outline which need any touch-ups before we proceed to the final stage of clearcoats. We always address those microscopic issues to be sure your boards look great from any distance. A small smudge in the outline or a small patch of gold leaf missing from a letter is not a big deal if you are looking at the boards from more than a few feet away. Nonetheless, we prefer to get every little detail right and we make the extra effort to achieve perfection in everything we do.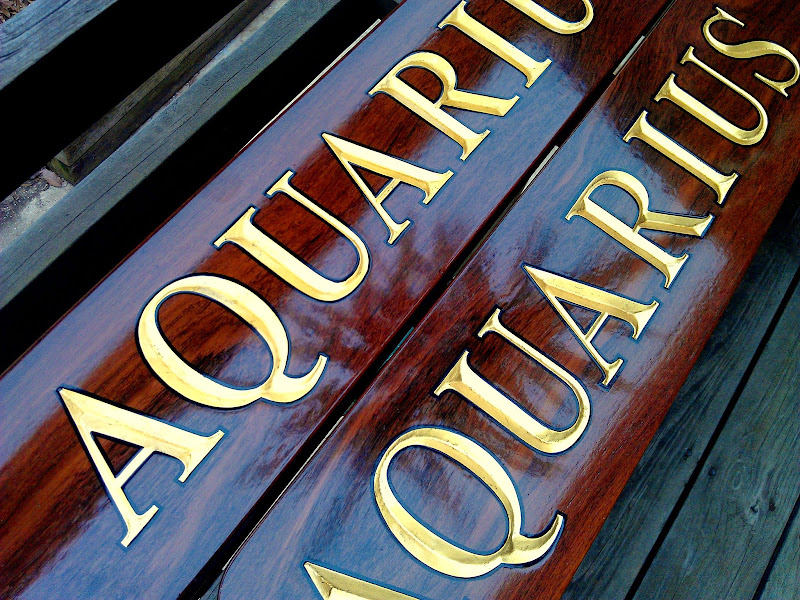 Canvas covers for your teak yacht signs.
After the outline has dried, the boards are ready to go. The final step is the addition of at least ten more coats of sprayed spar urethane. Our spar varnish and spar urethane are both oil-based, so there are no compatibility issues. After building up numerous coats of urethane, finally, we give the boards one more good sanding and another final coating of glossy urethane. The finished look is undeniably great, just like glass!
We recommend that you purchase custom canvas covers for your quarterboards. The clear topcoat should last for many seasons if you cover the boards when the vessel is not in use.
Maintaining your teak yacht signs is easy.
Seasonal upkeep of the topcoat could be necessary, especially in harsher climates. Whenever you notice that the teak yacht signs are starting took dull, that means it's time for sanding a new topcoat. If you are not able to maintain your boards you can always ship them back to us and we'll handle the job for you.
If you would like to receive a quote for new teak yacht signs, don't hesitate to contact us today. We are glad to help!