Mahogany and gold leaf; spar varnish makes it last!
Mahogany Quarterboards for Ravello with hand-carved letters finished with 23 karat gold leaf; they look fantastic. Each gold leaf letter needs a hand-painted outline; We use a fine lettering brush to render them at our shop. Will my gold leaf boards still look good after many years of use? Spar varnish protects the teak and gold leaf surface.  However, you will occasionally want to give the boards a light sanding and then an additional coat of varnish. If they started to look shabby, you could send them back to us, and we'll take care of that for you.
We select boards with the best grain.
These quarterboards are on display aboard this Fleming Yacht, outfitted by Burr Yacht Sales in Edgewater, MD.  For sure, when we use the best materials, you get the best results. Mahogany and Teak are both beautiful hardwoods. We select them for superior grain, which is easier to carved. Double gold leaf is the standard finish, but we also have other types of leaf available, such as palladium and white gold or yellow gold. Please take a moment to browse our site! We know you'll love many photos of our luxury boat names, custom life rings, and exotic wooden name boards.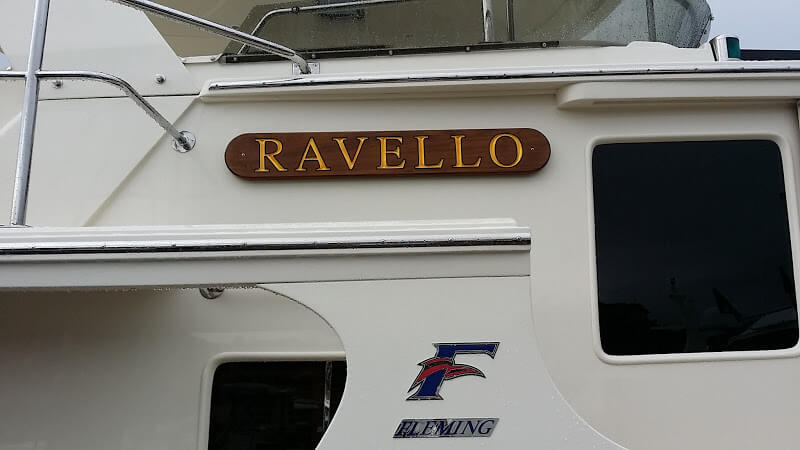 Carved quarterboards, boat names, & life rings.
Perhaps, our carved boat signs are the best around, and for sure, they might be the main event among our many high-end sign products and services. However, I would like to think that our life rings are just as good. It's a bit tricky to figure out how to arch some custom boat names and graphics across the tops of the rings. We treat the surface of the ring with a special solvent to prepare it for the vinyl adhesive. Without this solvent treatment, the life rings would not accept vinyl letters. While gold leaf boat names are the best quality, we can also produce some exciting boat names with catchy custom graphics. Below you'll find some great examples of our nautical signs, yacht names, and ring buoys. Together, we hope these images will make a lasting impression on you.
We look forward to serving you. Thank you for your time!