Wooden Quarterboards are Luxurious!
Indeed, every luxury cruising yacht needs new wooden quarterboards on its sides. Maritime law dictates the necessity of names along the sides of any large sea-faring vessel. Wooden quarterboards are the fanciest way to comply with these naming requirements. Keep in mind that we can provide you with matching transom boards too. All of our yacht name boards are teak or mahogany.
Do quarterboards have gold leaf letters?
We can always use gold leaf to create these with or without carved letters, so your boards are sure to look stunning, even at our lower price points. Even if we don't cut the letters into your boards, they will be no less attractive to see, as the gold leaf flashes and dances in the sun!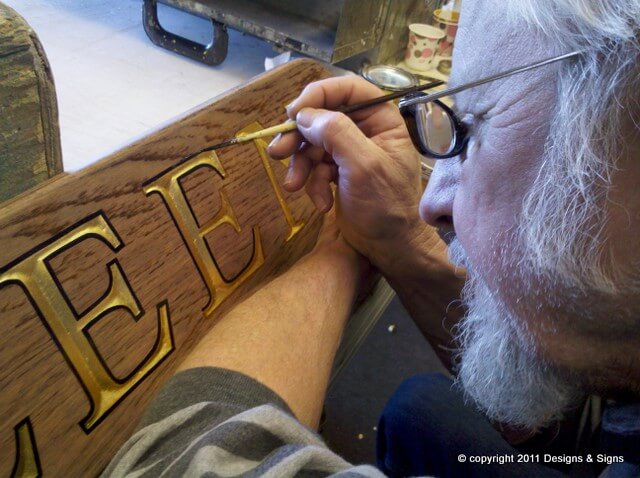 We varnish wooden quarterboards to protect them.
We protect our custom quarterboards with multiple coats of varnish. With regular upkeep of the varnish, the gold leaf will last many years. Recently, we have been using spar urethane for our topcoats. Our extensive use of varnish and urethane means your boards will hold up well in extreme marine environments. We'll start your boards off with six to eight coats of varnish after washing them with teak wash. The wash is great because it pulls the oils from the surface grain. Consequently, the initials coatings of thin varnish sink deep into the face of your wooden quarterboards. Creating a stronger physical bond is essential, as their coats lay the foundation for what is to come.
Urethane topcoats make quarterboards look glassy!
After varnishing, we carefully place your gold leaf and apply black painted outlines to make those letters pop off the board with added dimensional and contrast. We'll review your board closely, inspecting every letter for any mistakes. We'll do any necessary touch-ups before we apply ten more coats of sprayed spar urethane. We've found that urethane holds up better long terms than varnish, so now we love to use it as our topcoat. We'll sand and apply new coats until we get the glass-smooth gloss finish that every sailor desires.
We respond to emails quickly.
If you are interested in purchasing quarterboards for your yacht, please call or contact us by email. We also offer custom gold leaf boat names and life rings to match! Please take a minute to review some incredible photos of our boat names and custom accessories.