Design & Signs offers beautiful yacht name boards! First, we carve each yacht name board carefully by hand. We finish our boards with 23 karat gold leaf, which is a delicate process. We outline each letter with black lettering enamel paint. Finally, we seal the boards with numerous clear coats to further protect them from moisture and sun exposure. With proper care, our boards will last a lifetime. Many of our customers visit their local canvas shops to purchase covers for their boards. If you cover your boards when the boat is not in use, they will last longer. If you see that a clear coat is beginning to look faded, you may sand the boards lightly and apply one new coat of oil-based spar varnish or spar urethane.
We use many different types of metal leaf when we make these boards, and if we don't have something in stock we can special order it for you. Many different colors of gold leaf are available. Yellow, rose, and white are popular choices. Palladium leaf is even more valuable than gold leaf. We love to use palladium leaf but normally gold leaf is what our customers desire.
Sometimes we stain our boards. Mahogany is a good wood but it can appear lighter in color even after varnish is applied. A mahogany stain looks good. On a lighter color board it can improve the overall appearance. However, most customers choose to stick with the raw appearance of the wood which helps to show off the attractive grain.
For hundreds of years, the process of carving and gilding continues in its traditional form. We enjoy our work and we love to promote the legacy of historical sign making and traditional techniques.
History of yacht name boards
The maritime law of 1815 required every ship to have its name affixed to its stern. As part of the law, quarterboards had to be attached to the ship's bow and quarters, and the figurehead carver was often called upon to do the job. Many people now collect these quarterboards as historical treasures, real works of maritime commercial art. As whaling declined, and with ships being used more in the future, sailors and yard workers removed many quarterboards from these ships. Many home owners in New Englad and around the Chesapeake region, prominently display these historical boards as decorative art

Source: Figureheads & Ship Carvings at Mystic Seaport (1964) by Edouard A. Stackpole (purchase here).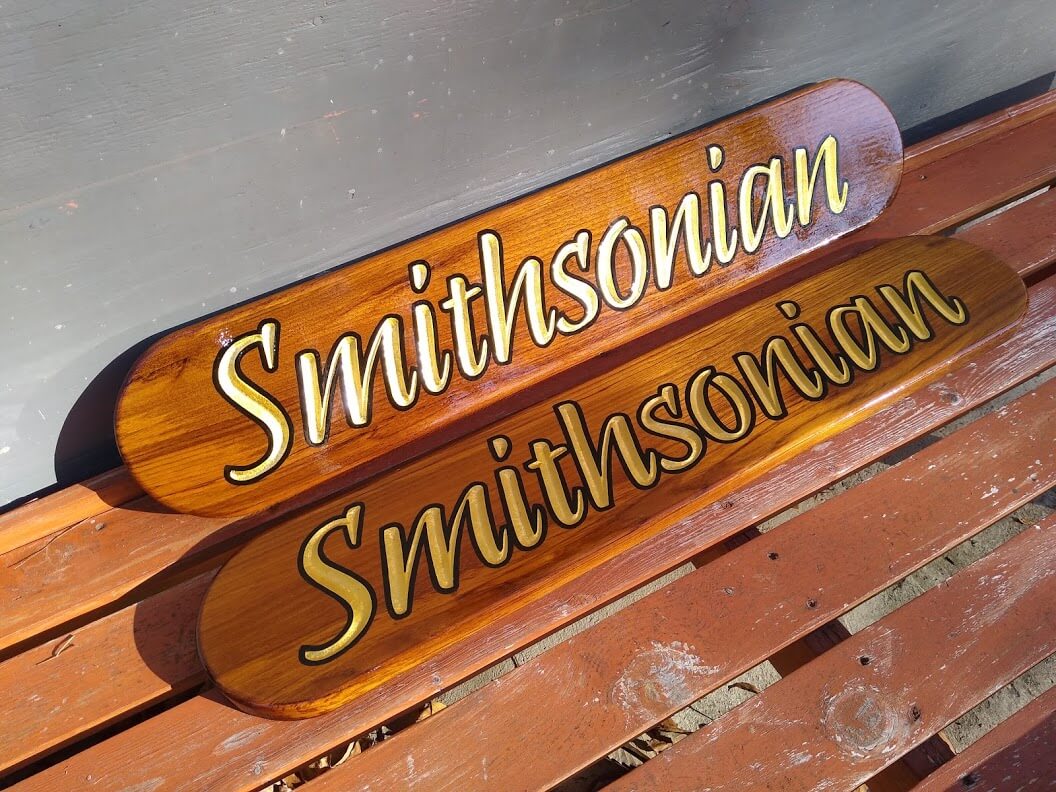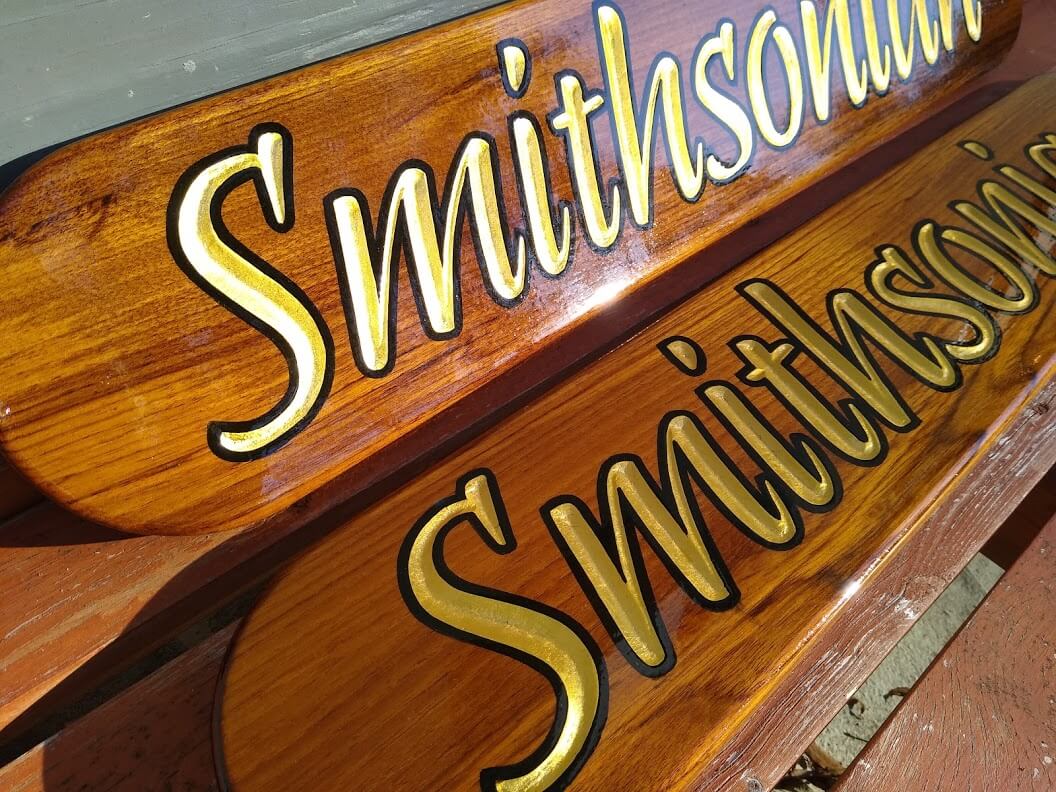 About the Smithsonian
);">The U.S. government has registered The Smithsoniann> as a public Trust. The Smithsonian name comes from James Smithson, a British scientist. Initially, the Institution was organized as the "United States National Museum."
Smithsonian contains more than 150 million items. There are 19 museums, 21 libraries, and 9 research centers at The Smithsonian. Among the various attractions, A zoo and architectural landmarks are prominent features of the Institution. The District of Columbia is the central location of most of the facilities. Additional facilities are located in Maryland, Virginia, and New York. There are Smithsonian affiliated institutions in 45 states, Puerto Rico, and Panama.
Nearly 30 million people visit the Smithsonian each year for free. The annual budget is approximately $1.2 Billion, a portion of which comes from federal funding. Funds for the Smithsonian's remaining operations come from its endowment, contributions, membership dues, and more. By 2021, the Smithsonian's endowment will be about $5.4 Billion.
Source: Wikipedia
Source: YouTube: Inside the Smithsonian
More information about The Smithsonian