Teak Quarterboards are great Nantucket House Signs!
Nantucket house signs are gifts handed down through generations of island residents and others who own vacations homes there too. Residents might want to add a new name to a cottage they have just purchased, or perhaps these signs can be offered as gifts. During the height of the whaling industry, island residents collected old quarterboards from retired ships and shipwrecks that could have washed ashore. T
A history of Nantucket Cottage Signs.
hese original name boards are living historical documents of days long passed. However, the tradition of collecting quarterboards remains. In addition, many homes in Nantucket display a traditional teak board to show the cottage's name. The island is gorgeous, and we think these signs fit perfectly with the luxurious yet quaint island decor.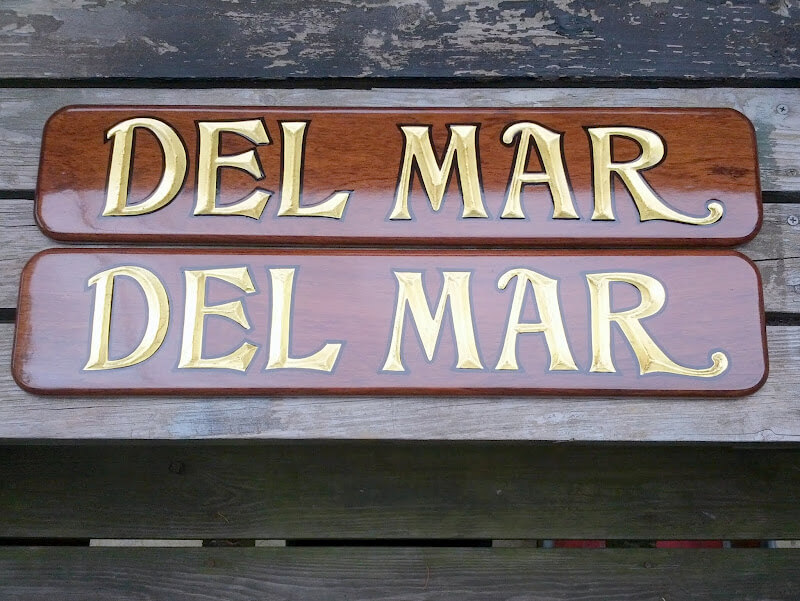 How to make Quarterboard Signs.
Please take a minute to review our website. There are so many photos here of Nantucket House Signs, like these Quarterboards for Del Mar. First, we choose the finest teak boards, then shape them and cut the letters by hand with a chisel. After that, we sand each board thoroughly before washing it with teak wash. The wash removes surface oils which allow for a more vigorous physical bond between the teak and varnish.
A gold leaf letter and outline complete the board. Before applying ten or more topcoats of urethane or varnish, we inspect these boards with strong reading glasses to catch any tiny errors. Good enough is never good enough because we want all of our Nantucket House Signs to look perfect in every way.
If you would like a quote for a Nantucket House Sign, please send us a message or call anytime, and we will respond quickly to your needs!