Smart cats love unique boat graphics.
Unique Boat Graphics for Educat; we Designed and installed this unique boat name at Designs & Signs in Edgewater, MD. First, I will usually work by hand with a sharpie to create the line art needed for a custom graphic, in this case, a "smart cat. " I'm not a cat person, but I still pulled this off. Next, I'll scan my drawing and then use Flexi-Sign to vectorize and edit the illustration. Vectorizing and editing are how we prepare the images for the vinyl cutter. Vector drawings take a long time to finish, as each line requires editing to smooth them all out and make them look good for large format usage.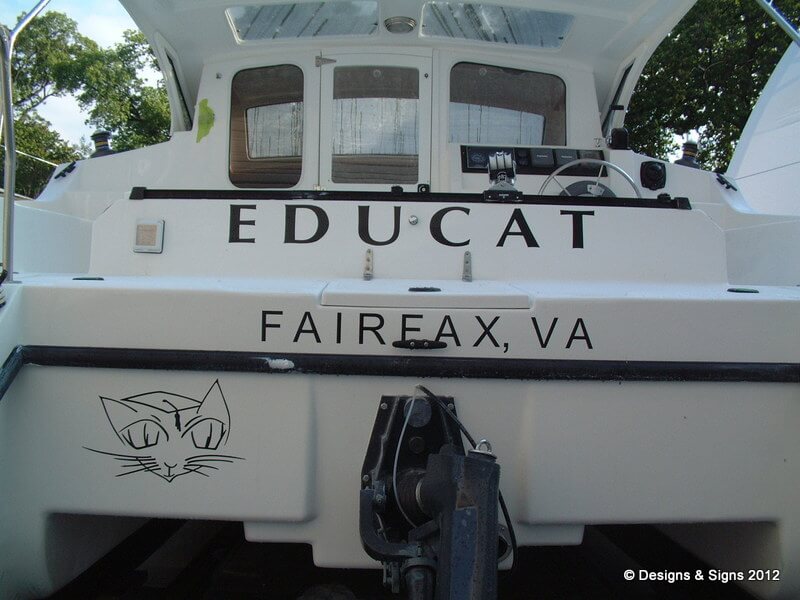 Unique Boat Graphics – Educat! Cute Kitty?
We install a custom unique boat name at Performance Cruising in Annapolis, Maryland. We use premium vinyl for all of our boat lettering installations. A one-color name and an excellent one-color custom design are all that you need to make your new boat look amazing. For those sailors and ship captains who want to take their boat lettering to the next level, we also provide yacht lettering with shadows and outlines.
Do you want gold or silver leaf boat letters?
We even have gold leaf and silver leaf films for the most luxurious boat names in the Chesapeake Bay. Gold leaf and silver have three finishes to consider; burnished is the most conservative, engine-turned is the most popular and traditional, and Florentine, a very creative, flashy film. Please take a moment to review photos of our custom boat names. If you have a question, please call us we'll be quick to sort you out!