What materials are suitable for making 3D letters?
3D letters are great. We also call them Routed dimensional letters. Creating these letters is one thing we do well. With so many materials available, there is sure to be the right way to make your letters stand out. We installed this routered logo at the offices of Extenet Systems in Lanham, Maryland. The letters are komacel , and we painted them with Rustoleum. Mounting onto the wall with VHB double-sided tape is relatively straightforward. Then, we can place the letters accurately one by one with a paper pattern until the entire logo is ready. You can read more about the installation process at the link below.
How do you install dimensional letters?
We also make stainless steel letters, bronze letters, and aluminum letters. We even offer cast brass lettering and laser-cut acrylic letters too. Like PVC (Komacel), acrylic letters are great for custom colors. For sure, we can paint these letters any color you like, and we finish them with a matte clear coat, which gives our colored letters a more cohesive appearance.
Can we paint 3D letters with Pantones?
We can even match Pantone colors if needed. The matte clear also creates a perfectly smooth face, making your letters look more and more perfect. Plaques are also available. We design and install cast bronze plaque and cast aluminum plaques too.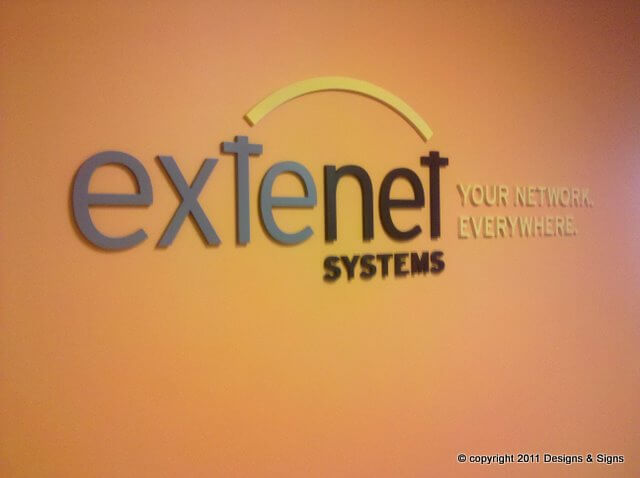 We make Dimensional Letters & Dimensional Signs Too.
Your business needs the best exterior signs , too, and we can help. We offer sandblasted HDU, Cedar, and Graniteand routed HDU signs. But, of course, every good business needs a great sign. Gold leaf glass for restaurants and shops is appropriate. Gold leaf door lettering or interior dimensional lettering works well for professional services. But, for most businesses of any kind, an interior 3D logo is the best way to go.
Where should I put my dimensional lettering?
Generally, your welcoming room or waiting room is the best place for 3D wall lettering. You can easily mark your lobby wall with a great logo that invites people into your space. A great logo or letterhead on your wall makes everyone know that you are open for business, and it provides a sense of belonging for repeat customers, who feel at home when they arrive at your well-decorated lobby. If the welcoming room makes them happy, you'll be satisfied too!
If you need a quote for interior lettering, please let us know. Please feel free to message us anytime, and we'll figure out a price for you as fast as we can. There are a few more links below where you can see photos of related commercial signs and services. Please take your time to enjoy our website. We hope our site is interesting and informative too!