We sandblasted (carved sign) for Kiefer Family Orthodontics in Allentown, Pennsylvania; we sandblated both of these HDU faces by hand, using a rubber stencil. Each face is 60 inches wide and 96 inches tall. We make the sign frame with 6×6 cedar posts and inset stringers attached with galvanized lags. Our fabricators can finish the letters and finials by hand with 23 karat gold leaf. Please take a moment to review photos on our website. Thank you for visiting Designs & Signs online.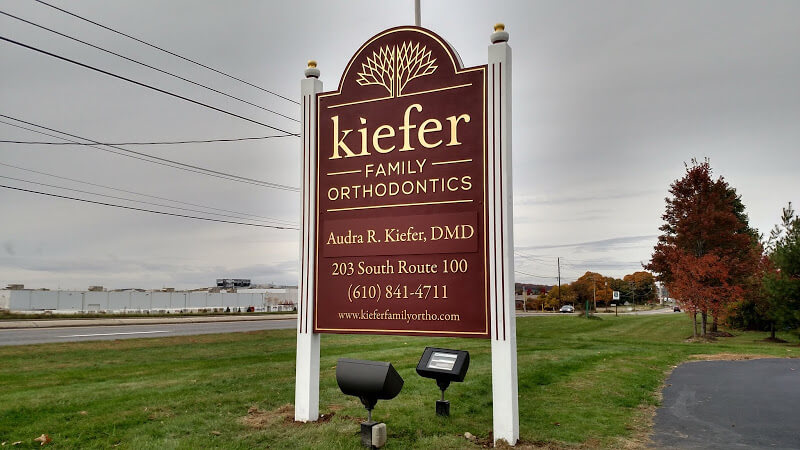 Double-Sided Sandblasted Sign
This sign looks good from any direction. Commuters and visitors can easily find your business with a double-sided sign. This large HDU face has letters that are big enough to be view well from a distance. When choosing a layout for your roadside sign, it is essential to maintain simplicity. Fewer letters usually mean we can make the letters much bigger.  A taller letter is readable from farther away. Simple large letters will stand out well to drivers to catch their attention and make it much easier for them to read your sign safely as they travel at high speed.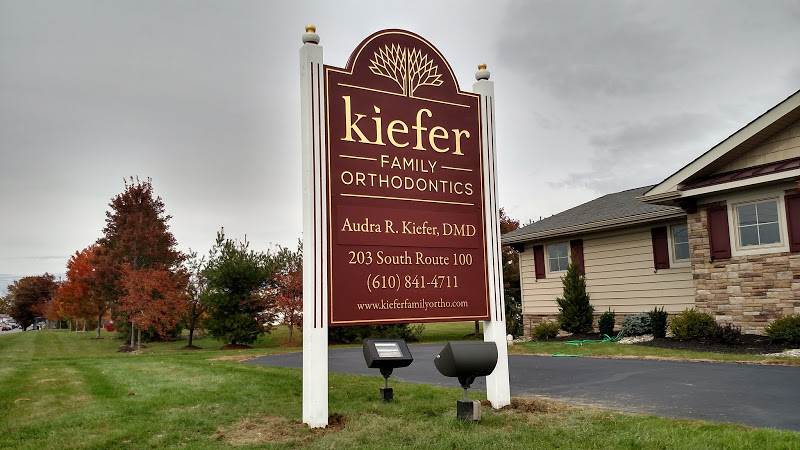 Finishing This Sign with Gold Leaf is good.
We'll cover all of the letters and trim with burnish sealer, size, and gold leaf. Sometimes the letters are smooth enough, and we do not need to use any sealer. However, if any part of the letter face is bumpy, we can smooth it out for sure before we finish it with gold leaf. We use a small rubber brayer to apply the size; an even thin coat works best. As the size dries, there is a sweet spot that allows for gold leaf application. The sweet spot is when the size begins to feel tacky. It is no longer wet, but also it is not dry. At that point, the gold leaf will adhere well to the surface of the letter.
Perfect timing is crucial
The window of opportunity closes quickly, so we can never gild the whole sign in one pass. Instead, we can work section by section to complete the gold leaf project safely and effectively. At the end of the day, gold leaf should last many years and give your business the classy look that you desire most.
Kiefer Family Orthodontics – Sandblasted Sign with Gold Leaf
---
We Make Interior Dimensional Letters For Offices Too!