What is high-density urethane signs?
High–Density Urethane is a strong, naturally waterproof sign material made for creating dimensional signs. HDU signs have a carved look, can feature smooth or textured backgrounds, and are available in a couple different thicknesses.
The signs are designed to withstand water and other types of damage that a wooden or weaker material sign would not be able to withstand. The signs can be crafted using sandblasting, routing, and/or through other means to deliver letters and signs to your desired specifications. These signs work best if your sign may be exposed to extensive rain, snow, or other environmental factors that can damage other signs. At the same time, they can still provide the same distinctive look that other varieties of signage can bring. You can find great examples of our HDU signs and work below.
What exactly is HDU?
High-Density-Urethane (HDU) is a rigid, "closed-cell" material. It is impervious to all petroleum-based solvents. Engineered specifically to make signs, HDU is waterproof and will not shrink or swell like traditional wood. It is also easier to cut, route and manufacture, reducing the overall cost.
High-Density Urethane – our most popular material for dimesional signage. We create community entrance signs by sandblasting or routing this fantastic subrate. i can be finished with exterior latex and gold leaf. Looks great and lasts a very long time. Below, a detailed photo of a sandblasted community entrance sign for Cedar Ridge in Eastport, MD. We use a woodgrain frame to create that recessed texture which resembles traditional sandblasted cedar.

A High-Density Urethane Sign at Westbard Mews
Routed with a smooth recessed background. Raised flat letters and trim are finished with 23 karat gold leaf. Signfoam can be primed and finished with exterior latex paint. Typically we will use a one inch sheet of 18 lb high density urethane to make our custom dimensional signs. We sometimes use machine routing but typically we prefer to sandblast with a woodgrain frame which adds a more natural texture to the background.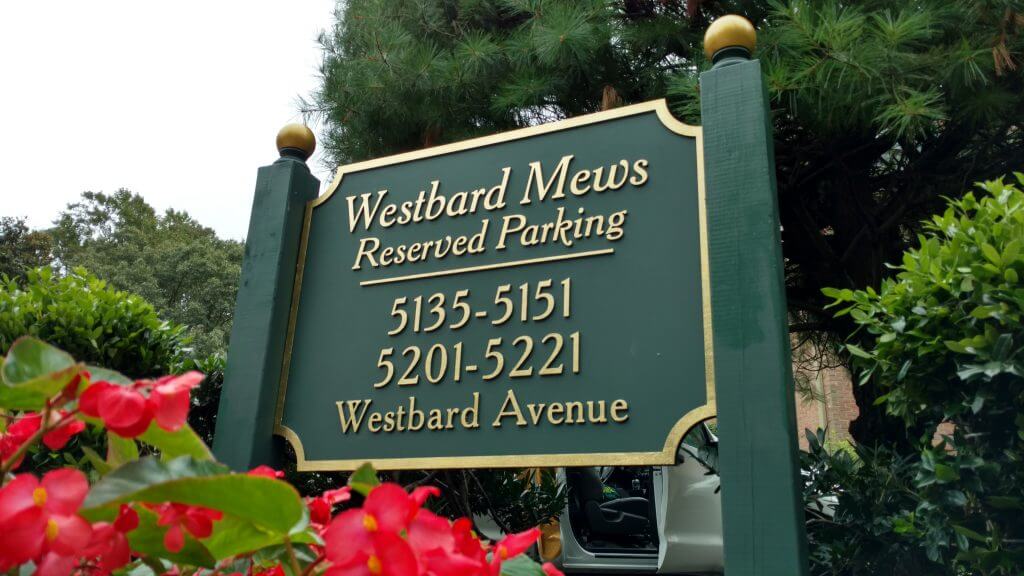 V-cut incised letters in signfoam
Another option for creating dimensional signs is v-cutting, which resembles hand carving. Finishing a v-cut letter with gold leaf does require a bit more time and effort as the size can be tedious to apply. The photo below shows a v-cut letter in the gilding process. The gold has been applied but the loose excess gold still needs to be removed and then the letters would be polished gently with cotton.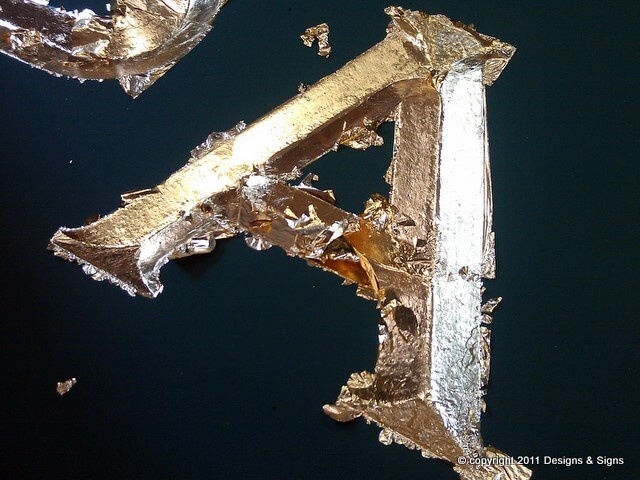 More About Sign•Foam4 (HDU)
The ultimate artist's sign board for dimensional signage and displays. This next-generation material provides the crisp, clean edges and detailed definition.  Signfoam accommodates virtually any design you envision, whether milled by machine, carved by hand, or sandblasted. It's a superb board for CNC-machining finely detailed designs and lettering, and nearly invisible surface textures. Sign•Foam4 sheets will not warp, twist or bow. And they retain their dimensional stability over the long haul.
Some Signage Application for HDU
Routed signs, smooth v-cut or with textured recessed backgrounds
Sandblasted signs, smooth recess, or with a woodgrain background

Sculptural elements to enhance any dimensional sign
Read more about this product at SignFoam.com