Dimensional letters (routered letters) manufactured and installed by Designs & Signs of Edgewater, Maryland. Designs & Signs offers dimensional letters in a variety of materials and finishes. Travis Brandon installed this logo at Audio Visual Innovations in Lanham, Maryland. We offer many different types of dimensional letters. Stainless steel, cast bronze, cast aluminum, and PVC letters can be made for your logo or title. Make your office look great with a custom dimensional logo.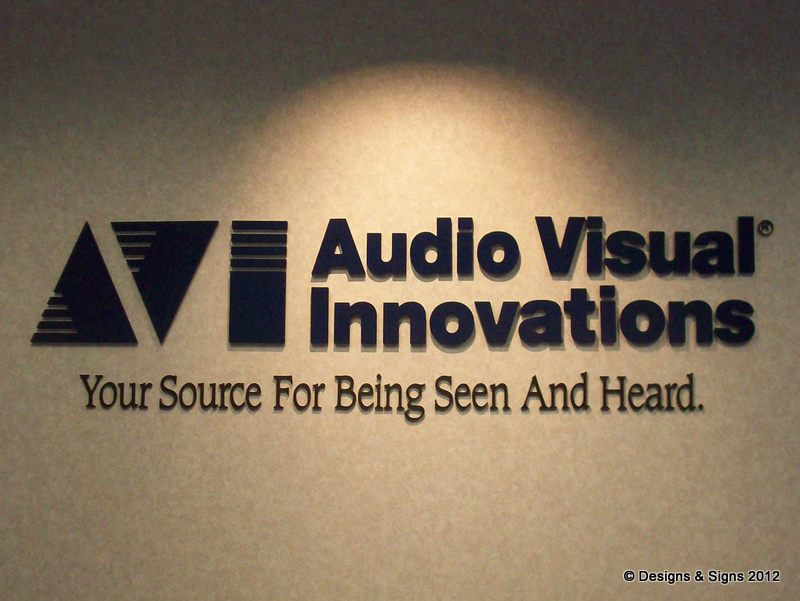 In short, routing is the process of cutting an image or lettering into the surface of solid material, such as foam or wood to create a sign or design. Basically, a routed sign refers to a cut or carved piece made using a CNC router or machine.
You can use PVC signs to give your business a distinct identity and make passersby take notice. However, if you need to draw attention to your logo or catch the eye of a prospective client, PVC letters, dimensional letters, and Sintra® are the perfect choices.
You can use PVC signs to give your business a high-quality, professional image-and they are just as effective as other, more expensive materials. Unfortunately, it is not easy to tell what material a sign is made of once painted!
PVC sign letters are not only easy to install and transport, but they are also suitable for use in both indoor and outdoor environments. In addition, PVC signs look extraordinary (and the number of colors is almost unlimited! ), making them a very versatile material. Moreover, PVC is flexible and easy to cut into specific shapes, making it an excellent choice for custom designs and manufacturing.
Dimensional Letters, Routered Letters & Sandblasted Signs Too