Dimensional Signs; Kevin Nick makes signs by hand at Designs & Signs.  The Inn at Horn Point, a luxurious bed and breakfast located in scenic Annapolis, Maryland; we designed this custom layout to attract new visitors to their cozy bed and breakfast. Kevin uses 18-pound high-density urethane to create the sign shape. Then, he sticks a rubber mask to the face of the HDU, which protects the letters while leaving the background exposed to the blast media (sand). Next, we blast away the background to reveal the finished architecture of the lettering and trim. Of course, a faux woodgrain is available if you desire it. It takes years of practice to get a nice smooth blast, and Kevin does this flawlessly every time. When Kevin finishes the blasting, we remove the stencil, and then we prime and paint the HDU sign face with premium exterior latex.
We use premium paints and genuine gold leaf.
Sherwin Williams supplies us with the best paints available on the market today. Finishing all of our signs with 23 karat gold leaf is a top priority! Customers and other local sign companies know us well for our gold leaf and palladium leaf signs. Please take a moment to review our site. To be sure, you will be impressed by many excellent photos of our sandblasted signs and gold leaf signs.
We make routered signs by hand.
During the production of
Sandblasted signs
, a rubber mask protects the substrate during the blasting process. We created the cover with a
plotter
, which cuts the shape of the letters and graphics into the rubber film. Afterward, the mask is applied to the face of the substrate to protect the
dimensional
signs during the blasting process. The
adhesive
on the reverse surface helps to hold the mask in place. When the mask is in place, the exposed areas (that portion of the image not covered by the mask) are removed from the dimensional signs using a sandblasting spray.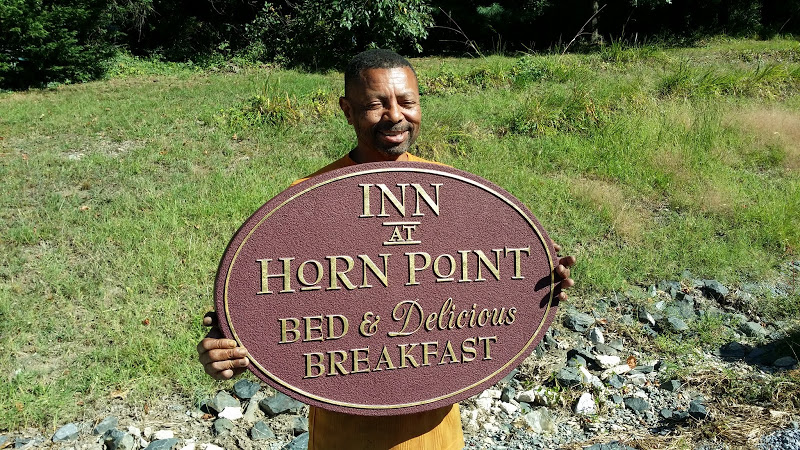 Please take a moment to visit the Horn Point website at https://www.innathornpoint.com/.
See more of our great Dimensional Signs with gold leaf!
In terms of craftsmanship, we are unmatched. Our company creates so many different types of dimensional signs. We make cast bronze plaques , and we fabricate dimensional letters from PVC, aluminum, and steel. If you would like a blasted or routed HDU sign tailored to your taste, don't hesitate to contact us. If you want to create an entrance sign that stands out and is incredibly appealing, there is no limit to what we can do. Signs that have a three-dimensional design ensure that the finished product looks permanent.