We've been working for our friends Kratos for many years through a few office moves. A lovely photograph of their newest, dimensional logo (routed letters) made of 3/4 inch komacel (PVC). We use Rustoleum spray paint for plastic to finish the komacel with two colors.
We installed the letters on the exterior brick facade at Kratos' new office in Lanham, Maryland. A paper pattern allows us to drill holes accurately in the mortar, where our installers can insert stainless steel pins. We drill tight holes to ensure that the pins will hold with a snug fit when we insert them into the wall. The pins do not require adhesive when the holes are drilled the right way. We do our best to avoid drilling the brick. Careful drilling helps preserve the wall, as a bricklayer can patch the mortar, but once the bricks have too many holes, there is no way to make them look good again.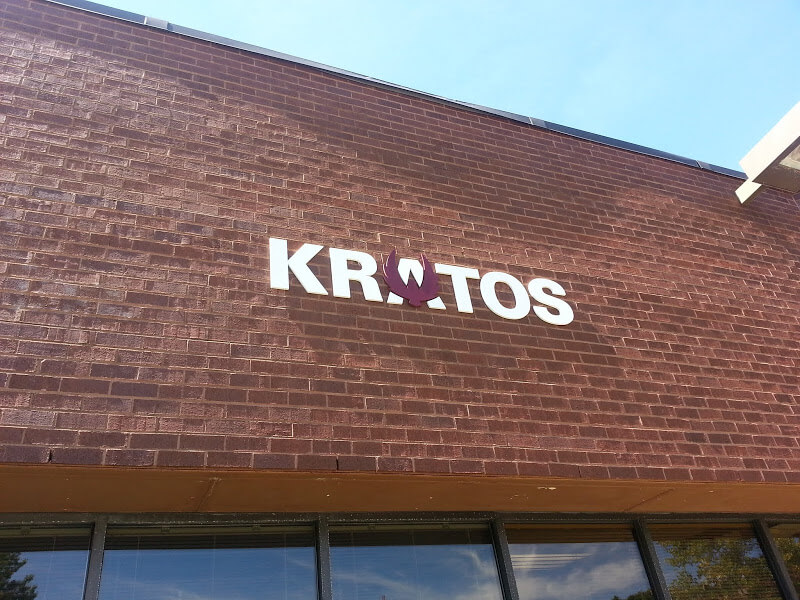 Routed Letters made of metal too
We produce real metal letters too! Here are some great photos of Brushed Steel Letters that we installed at Scarborough Capital. We also make letters from cast aluminum and bronze. Other dimensional signs include sandblasted cedar signs and routered HDU signs. Often, we combine the different styles of dimensional signs to create something truly unique. Custom frames and caps adorn our community entrance signs. Of note, we can even pin mount steel letters onto a cedar sign's face. We used this awesome technique while making the Mariner's Cove Community Entrance Sign here in West Annapolis.