We designed, created, and installed another handsome gold leaf sign made by Designs & Signs at Shoreham Beach in Mayo, Maryland. This community entrance sign was sand carved (sandblasted) and then handed painted. Our fabricators will finish the letters and time with a 23 karat gold leaf. In addition, we shape our HDU signs with sandblasting and CNC routing. Both methods can produce a wood grain background, which makes the sign look like natural wood! We can use any new dimensional sign substrates to make modern signs that replicate natural cedar signs. Before HDU and Komacel, cedar was the only material sign makers generally used to create sandblasted signs. Naturally, the blasting process exposes a woodgrain pattern that is unique to every sign. Consequently, many newer materials aim to mimic this look. A variety of machining and blasting techniques provide a natural hand-made appearance.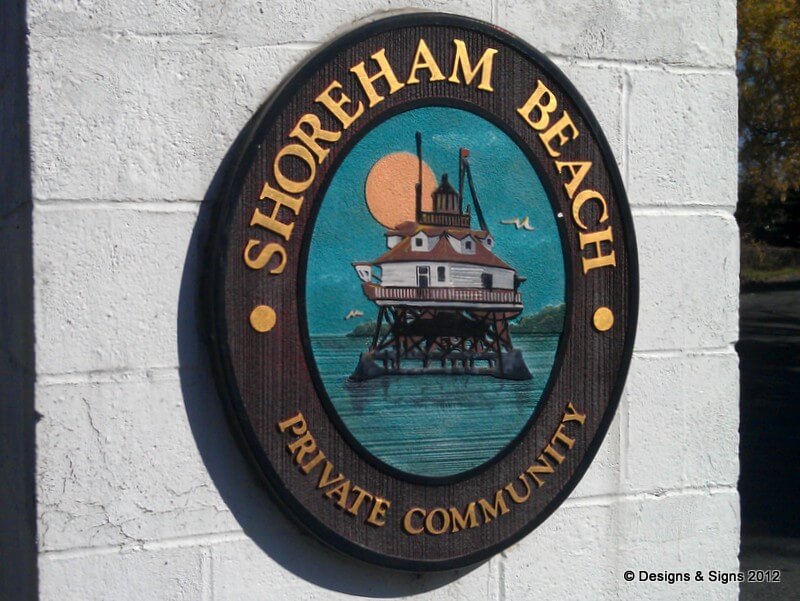 More about GOLD LEAF SIGN making
You can see beautiful vertical grain around the lettering and horizontal grain in the middle of this sign. Any sort of combination like this creates contrast and depth. Because this is HDU we are able to create perpendicular grain. With a real cedar sign, something like this would be much more difficult to achieve. In the middle, one finds the interesting tier-blasted image of Thomas Point Lighthouse. After blasting we can paint the images by hand. Multiple colors and textures bring this lighthouse sign to life! We can also create HDU signs with smooth recessed backgrounds, and v-cut letters, or incised letters. For example, this church sign shows us how a v-cut routed letter in HDU imitates the look of a hand-carved letter. In Contrast, any letter carved by hand exhibits more detail. That is to say, there are more tiny imperfections in handmade carving and lettering. These imperfections add character to any sign.
To learn more about this historic lighthouse please visit the official website at  https://www.thomaspointlighthouse.org/.
MORE COMMUNITY ENTRANCE SIGNS
---