A subdivision entrance sign Holly Hill Harbor made by Designs & Signs. This sign is sandblasted HDU. We also make routed HDU signs and sandblasted cedar signs. The design for this sign was provided to us by the homeowners association.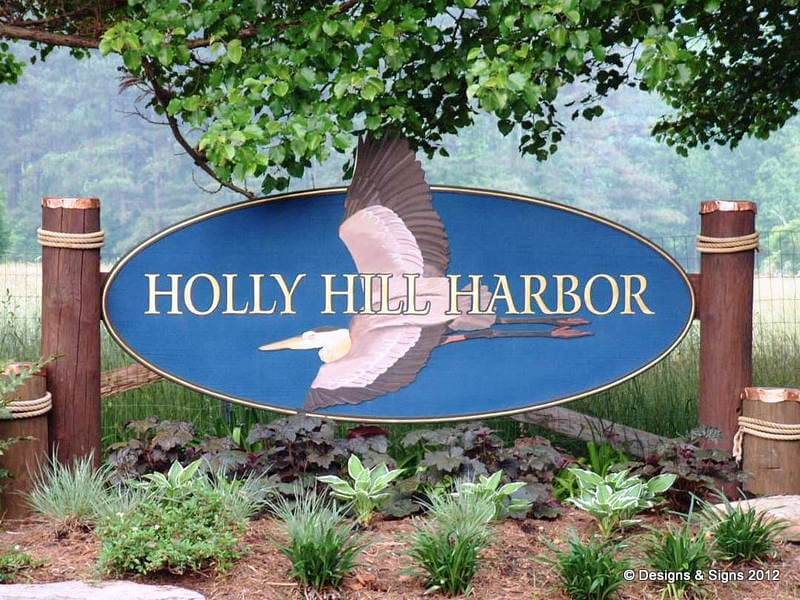 A sandblasted community entrance sign at Holly Hill Harbor in Edgewater, Maryland, we made it with HDU with a waterfowl theme. Also, one might say that this sign specifically has a marine or maritime look to it. The sign is fashioned from 18 lb—high-density urethane (HDU, sign foam). The background is blasted with a screen overlay which applies for a realistic woodgrain relief. We painted the large heron by hand to match the customer's photograph. Finally, the letters on this subdivision entrance sign look spectacular with traditional 22kt gold leaf. Please take a moment to review photos of our community entrance signs!
What does HDU stand for in signs?
In addition to a flat sign's height and width, a three-
dimensional
sign (sometimes called three-dimensional signage) adds an element of depth to it.
In contrast to two-dimensional flat signs, three-dimensional letters, logos, and graphics capture the eye due to their shape, shadows, and shading. These signs come in various shapes and sizes, and we can install them indoors and outdoors. If you decide to put your sign in a prominent position, you will be sure to attract your visitors' attention.
A high-density foam, also known as HDU, is robust, lightweight, waterproof, and economical. In addition, the HDU dimensional signs offer a carved look with a smooth or textured surface, making them perfect for creating custom shapes. Often,
3D
HDU signs accurately mimic the appearance of wooden signs.