We make HDU Signs with a wood grain finish.
We make excellent community entrance signs. Call us. We can create a sandblasted sign for you with HDU or Cedar! We also offer routed signs and pin-mounted dimensional letters, and we build walls and posts with brick or stone. Below, you can see an excellent example of a 3D sign with raised letters and a recessed background. Like this sign, they could have a woodgrain finish. We fashion HDU signs with sandblasting and with routering too. It is good to know that our routered signs cost less, and we can still make them look as though we blasted them by hand.
We gild every sign!
As soon as we have shaped the sign, we can begin finishing it. First, we prime and paint with premium Sherwin Williams exterior latex. Next, the letters receive one coat of size and gold leaf. Finally, the gold leaf adds a touch of brilliance that will make this sign shine for years to come!
CNC machines can imitate hand-carved lettering.
Similarly, any HDU sign can also mimic the appearance of a wooden sign with hand-tooled incised letters. Incised letters are carved into the wood to look like hand-carvedletters. When we make a sign like that, we would also outline the letters by hand after applying gold leaf. For example, the sign for Ward Circle looks like a sandblasted cedar sign, although it is HDU, not wood. You can find an example of incised letters in HDU in Salisbury right on route 50. We manufactured some great v-carve signs for a local church. These church signs looked like we carved them by hand with v-cut lettering, but in fact, we routed them with a CNC machine.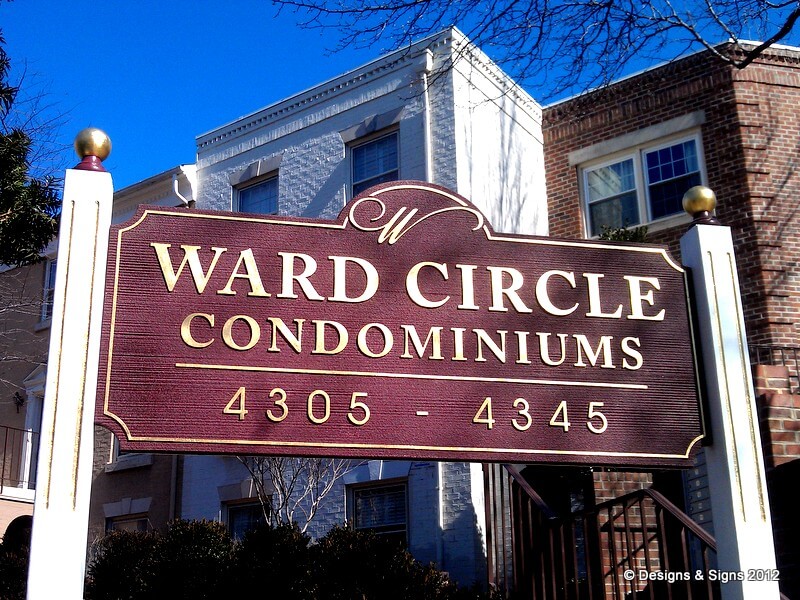 Designs & Signs makes beautiful sandblasted community entrance signs. Don't hesitate to get in touch with us for a quote!