We restore gilded letters on sandblasted signs.
23 Karat gold leaf finish of raised letters is how we make your sign stand out among the crowd. Subdivisions and businesses alike will benefit from gold leaf lettering on any style of dimensional sign. A sandblasted sign for Scarlett Ash receives a well-deserved touch-up. With a bit of love, these shimmering gold leaf letters come back to life, looking good as new! This sign was carved by Designs & Signs many years ago. We have recently restored the painted finish and 23 karat gilded letters. Please take a moment to review our website. We have posted many other photos of our beautiful gold leaf signs and glass gilding projects. Thank you for your time!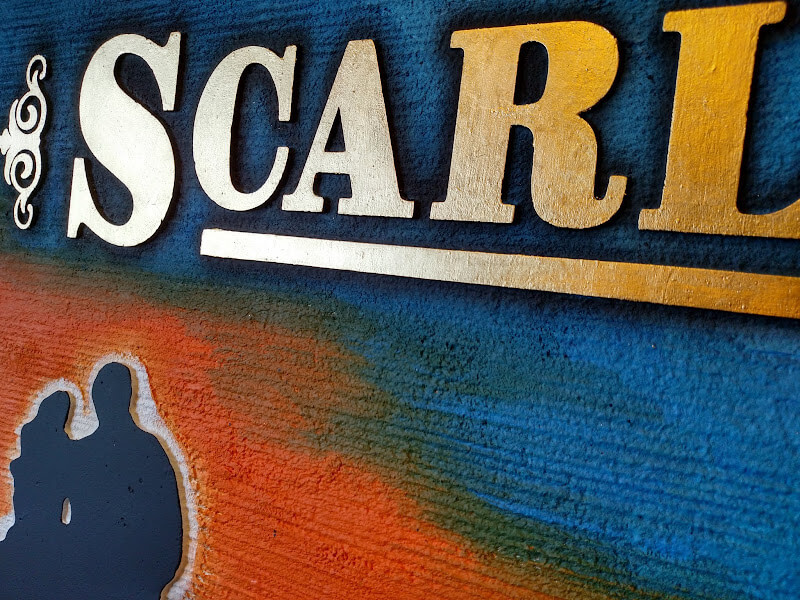 See more photos of gold leaf letters.
Whenever it is appropriate, we use gold leaf on dimensional signs and letters. Gold leaf captivates your audience. For any business, this is the best way to bring in new customers from the street. Be noticed with gold leaf, and the investment you make in a new sign will pay off quickly. Below, you'll find links to more photos of dimensional signs which incorporate 23 karat gold leaf. Please know that gold leaf is not appropriate for all types of signs. However, if your sign fits the bill, we will certainly recommend a professional gold leaf treatment.
Please don't hesitate to contact us!
Perhaps you need a new gold leaf sign today, or maybe you have just begun the process of window shopping for good sign ideas. Please know that we are here to help. If you have any questions, we can surely help by quickly providing you with the specific information that you need. So don't wait, please contact us with a message or a phone call today, and we'll be in touch soon. We look forward to starting a new gilded letters project with you.