We make fantastic dimensional signage. Here's a sandblasted sign with a 23 karat gold leaf finish. Does Brendon Brandon pose with a shovel? The faux stone HDU frame resembles authentic stonework.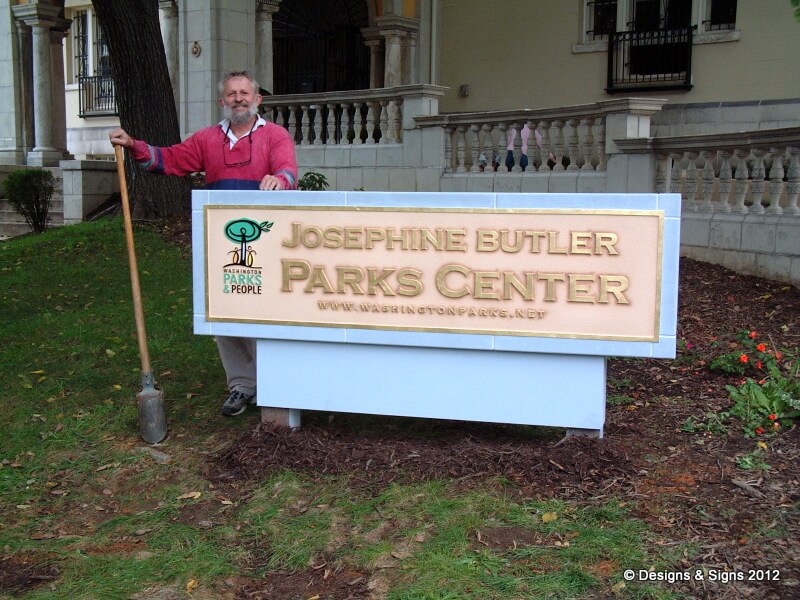 Classy dimensional signage made it impress.
A sandblasted HDU sign finished with gold leafand installed at The Josephine Butler Parks Center in Washington, DC. This beautiful gold leaf sign looks like natural carved stone, but it isn't! We made this sign from high-density urethane (HDU). The sign foam is sandblasted with a flat relief to resemble the look and texture of a natural stone. We prime and paint the signs with premium exterior latex paint, and we finished the letters and trim with a 22kt gold leaf. Designs & Signs also make genuine stone-carved signs, but sign foam is considerably less expensive and easier to shape. Because we can fashion it to resemble either wood or stone, it is the perfect material for most installations. Don't hesitate to contact us if you have any questions about our carved signs and gold leaf services.
What is dimensional signage?
A three-dimensional sign is an ideal way to showcase your brand. Bring your logo to life by adding dimension. We use different materials such as wood,
PVC
plastics, metals, and
acrylic
to make your dimensional signage stand out.
The benefits of dimensional signage extend beyond logos. Add visual appeal to any environment with dimensional signage. Using these customized signs, you can showcase a recognition display or direct visitors to specific areas or attractions. To add an extra element, consider ground lighting or track lighting above your sign. The additional lighting will illuminate the letters at night. The shadowing effect is attractive.
What type of material do you use for Dimensional Signage?
We offer a variety of materials for your custom signage needs. In general, we use various types and thicknesses of foam, PVC, and aluminum. It will depend on your desired look, where the sign will be hung, and whether the sign will be permanent or temporary, among other factors, what kind of material you choose for your custom signs. A member of our team will be able to discuss this with you further to determine all the particulars of your custom dimensional sign.
https://www.washingtonparks.net/josephine-butler-parks-center/