One Humungous Duck Sign!
We made these Gold Leaf Signs for the Ruddy Duck Brewery in Solomon's Island, Maryland. This original sign-making project was interesting, for sure. Without a double, we have never made any other signs like this one. If you have ever driven north on Rt.4, leaving Solomon's Island, you've probably seen the Ruddy Duck. Certainly, this duck is one giant duck!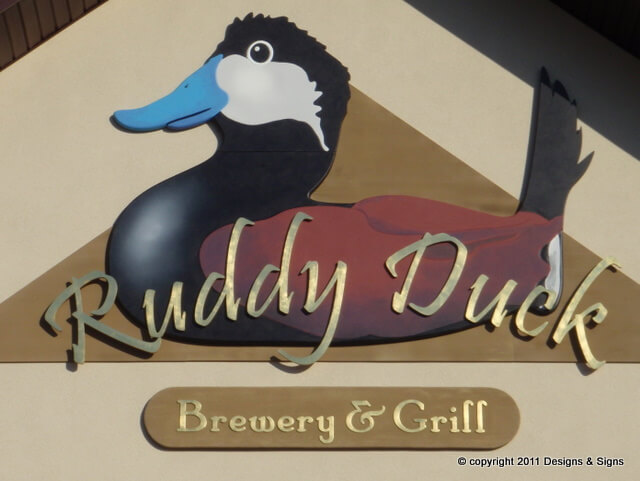 See more handsome Gold Leaf Sings.
Gold leaf at The Ruddy Duck Brewery & Grill in Solomons, MD. This sandblasted sign was designed, fabricated, and installed by Designs & Signs. We produced the humungous duck with a CNC routed which cuts the overall shape from HDU, high-density urethane.  We also routed the large pin-mounted letters from half-inch white komacel, then painted and finished with gold leaf. Next, we sandblasted the rider sign, and as always, we covered all of the raised letters with 23 karat gold leaf. Finally, we gently press the gold leaf onto the slow drying size as it begins to feel tacky. The correct timing during this part of the process is always critical. If we lay the leaf too soon, it will not stick as the size will still be too wet. Likewise, If we wait too long before placing the gold, it will not stick because the measure would be too dry.
Reach out today. Answering your questions is our pleasure!
We know that your time is valuable, and we are grateful that you have decided to spend some of it reviewing our work. We would love to help you if you have any questions, providing more information and pricing if needed. Please send us an email or call us at your convenience. We will respond promptly. On weekends, we do our best to respond quickly, but sometimes if you message us on the weekend we will probably get back in touch with you on Monday!