We use gold leaf film on names and boards too.
Sometimes we use gold leaf film instead of traditional gold leaf. It's real 23 karat gold, it's resilient, and it looks great but costs a bit less as the installation is much easier and faster than traditional gilding methods. If you require a lower-cost option, this is a product that might work for you, and it will still be a lovely addition to your vessel, no doubt! However, there is one drawback to putting film onto a quarterboard. When the clear coat fails, there is no way to refurbish the board without completely removing the lettering and re-installing them after a new clear coat is ready.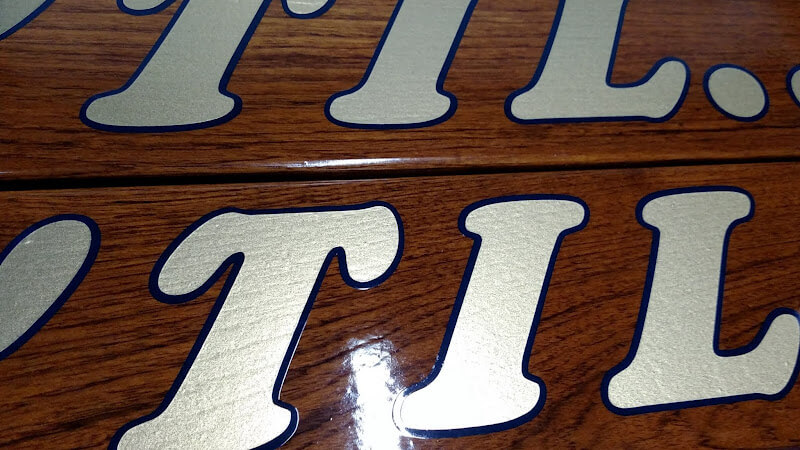 How do we protect our quarterboards from the elements?
Teak quarterboards for Til… We finish these standard quarterboards with multiple coatings of UV protective clear. Oil-based spar varnish and spar urethane are great choices for topcoats that will hold up well even in extreme marine environments. The letters are 23 karat genuine gold leaf film, and the outline is premium vinyl. Our genuine 23 karat film is a cost-effective alternative to traditional surface gilding.
See more photos of our gold leaf signs.
We can also use this same film on glass windows and doors. For example, here are some photos of a door that we lettered for Colony Club in Washington, DC.
Are you looking for a more traditional quarterboard with carved letters and traditional gold leaf? Then, please look at these beautiful photos of some carved quarterboards that we created for Mallard!