Luxurious Boat Names require gold leaf.
We install Luxurious Boat Names on yachts in Edgewater, Annapolis, and beyond. First, we can send you fonts for review, and then we'll send a drawing or a mock photo once you choose a font. We can include custom graphics as well. We always do our best to incorporate those elements into your layout so that your name and graphics will work together to produce a visually pleasing, cohesive name. Usually, luxury yachts do not need much flash in the name to look classy. Because of this, we try to keep it simple and use the bests fonts and materials. With gold leaf and silver leaf film, you cannot go wrong. We offer their finishes. For the traditional sailors, we have engine turned and burnished leaf. For the more creative captains, there is a Florentine swirl. All of our gold leaf and silver leaf films sparkle in the sun, and in fact, they look just right in any weather conditions.
The gentle touch of a white outline around a gold leaf
We usually recommend a white outline when installing gold leaf on a dark blue transomor dark green transom. The outline helps to create maximum contrast between the hull and the gold leaf lettering. The contrast makes the letters pop, so the name looks better from a distance. For lettering this size, we usually use a very bold outline, already 0.3 inches or thicker. A bold outline makes the letters look better at a longer viewing distance when you are underway. Looks great at the dock too! Luxurious Boat Names need a bold outline for sure.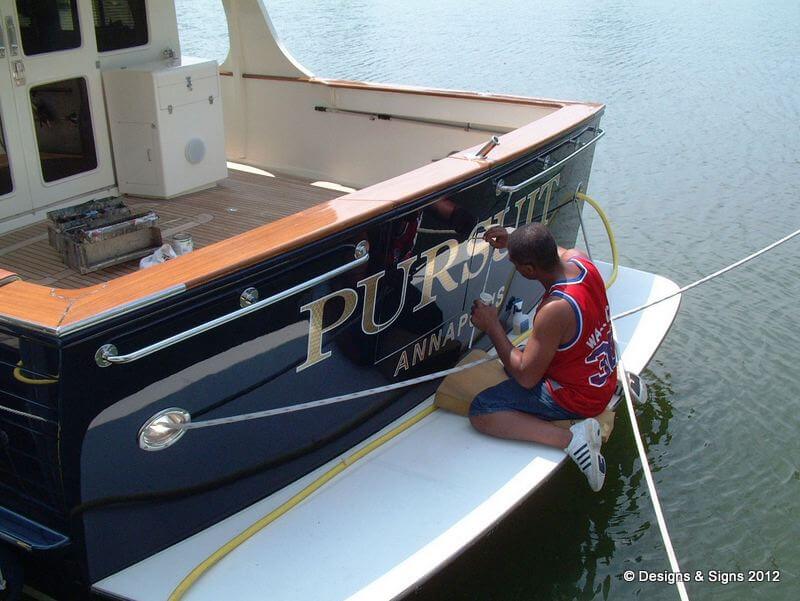 We have GOLD LEAF BOAT NAMES for wooden yachts too.
Here's a great example of a restored wooden boat with a gold leaf name. Gold Leaf Yacht Lettering looks great on Audrey: We always use traditional gold leaf application methods for classic wood transoms. Surface gilding by hand is still popular among shipowners who need to adorn a wooden hull. Applying the size, outlines, and shadow with a brush is how we make real wood transoms look their best. Traditional gold leaf is quite a complicated process because there are many critical steps, and drying time is needed between each step. Luxurious Boat Names on a wooden transom will require a full day on-site to finish.