See how Kevin Nick installs a gold leaf boat name on a Fleming Yacht at Burr Yacht Sales in Edgewater, Maryland.
Designs & Signs installs gold leaf boat names on every Fleming Yacht outfitted by Burr.
The gentle touch of a white outline around a gold leaf
When we are installing gold leaf on a dark blue transom, or dark green transom, we usually recommend a white outline. This helps to create maximum contrast between the hull and the gold leaf lettering. Contrast makes the letters pop, and look better from a distance. For lettering this size we usually use a very bold outline, already 0.3 inches or thicker. A bold outline makes the letters look better at a longer viewing distance when you are underway.
Looks great at the dock too! Bold Materials need a bold outline for sure.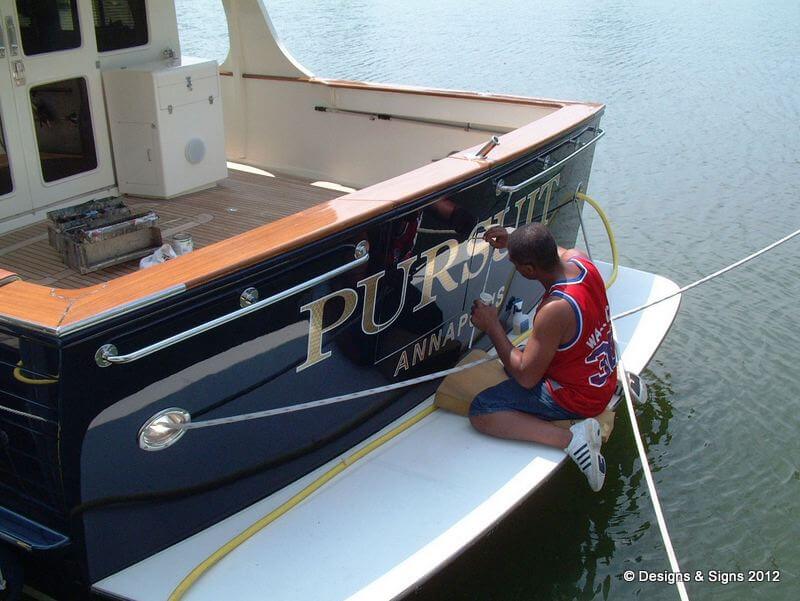 ---
and GOLD LEAF BOAT NAME/S for wooden yachts too…
Gold Leaf Yacht Lettering – Audrey:  For classic wood transoms we always use the traditional gold leaf application methods. Surface gilding by hand. Applying the size, outlines and shadow with a brush. Traditional gold leaf is quite a complicated process. Gilding a wood transom will require a full day on-site to finish.
---