We make fancy house signs.
A Fancy Carved Teak Address Sign; carved letters finished with 23 karat gold leaf and a hand-painted outline. Our customer provided the wooden fleur-de-lis; we sanded it and finished it with patent 23 karat gold leaf. All of our signs, we make them by hand. Each sign is different. Our carver chooses the finest teak or mahogany for your project. Our wood is guaranteed to show a handsome grain. We never fail to choose only the best cuts for our custom sign project. Certainly, if you desire a wooden sign that will make your home stand out from the others, we can provide it for you.
About the sign carving process
First, we carved the letters and routered the inline. Next, the letters and lines are inlaid with gold leaf, and then we painted the outline onto the numbers with a fine lettering brush. Finally, we protect the teak and gold with multiple coats of varnish. With regular upkeep of the varnish, this board will last a lifetime. In short, we make the best carved-teak address sign for our customers. We would love to make yours next!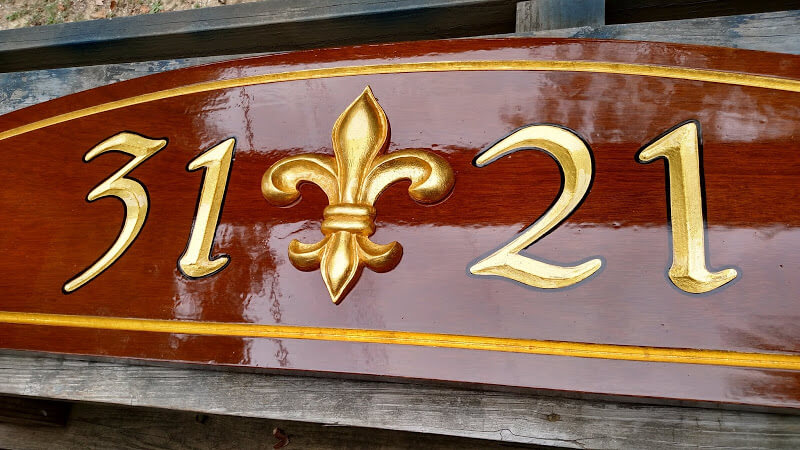 Carve Teak Address Signs & Gold Leaf on Glass.
If you have a glass transom, we can install gold leaf numbers on the glass too. Take a moment to review some of the links below to residential glass gilding projects. In addition, we have provided custom transom numbers on homes throughout the region; in Baltimore, Annapolis, Northern Virginia, and mostly in our nations' capital, Washington, DC.