This beautiful gold leaf address (1645) makes any historic home look as good as new. We apply for many Gold Leaf Address Numbers above the entrances of historic homes in Washington, DC. A classic font looks perfect with double gold leaf mirror numbers and a thin black painted outline. Gold Leaf Address Numbers applied by hand never fail. There's no substitute for 23 karat gold leaf. We use only the best materials for all of our glass gilding projects and hand-made gold leaf signs!
Learn more about our Transom Window House Numbers.  Detailed information and photos of the process from start to finish!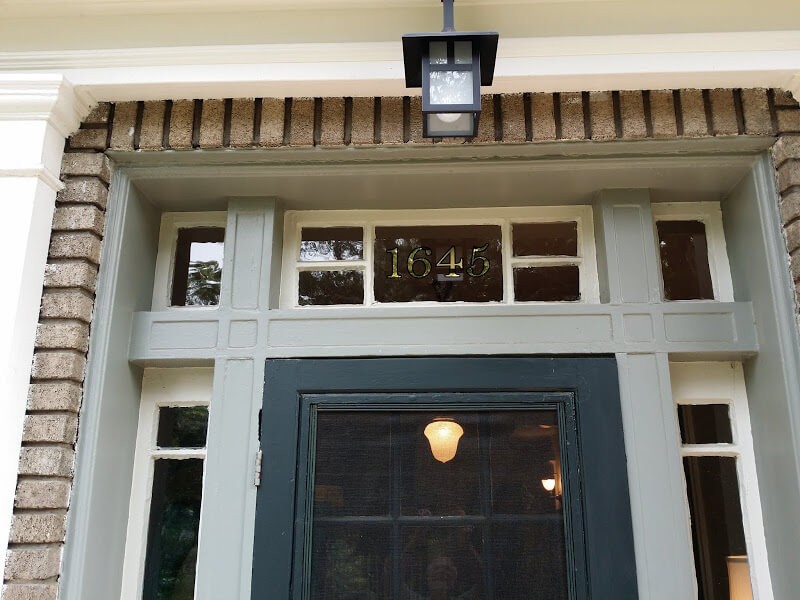 Historical Gold Leaf Address Numbers
A perfect transom above your front entrance makes your home look fantastic. Historical accuracy is a must when you buy a gold leaf address. We have adorned many homes with classic serif fonts, or often we use fonts with a ball finial, like Clarendon font or Windsor font. Sometimes our customers desired more retro style fonts, perhaps a sans serif or even art deco fonts will also look appropriate. We have designed and installed gold leaf lettering and logos for hundreds of homes and businesses in  Washington DC, Annapolis, and Baltimore.
About the glass gilding process
How to gild a glass surface; Reverse Gilding on Glass, or
Verre Eglomise
.
Throughout history, sign makers, lettering specialists, and specialty mirror makers have used gold leaf to decorate glass. 'Reverse Gilding on Glass' and 'Verre Eglomise' are also terms for
glass gilding
.
We use a glue called Gelatin Size to gild glass. In a small metal cup, Sterno heats a small amount of clean water. As the water temperature rises, it dissolves the gelatin, which mixes with the water. We can spray or brush the water onto the glass. Immediately we use a gilder's tip to place the leaf onto the glass. Once the gold leaf address is dry, artists repeat the process, and then the gold is backed up (protected) by thick black backup paint.
For a matte appearance, we can use oil-based adhesives (gold size varnish) instead of gelatin size.