This sandblasted dimensional sign (gold leaf sign) decorates the entrance of Blanca Flor in the historic district of Annapolis, Maryland. We shaped the flowers by hand with wood-cutting tools. In contrast, the sandblasted letters look fantastic with gold leaf and palladium leaf. Our installers used a paper drilling pattern and pins to install the sign above the front entrance to the store. The pins protrude from the back of the sign, which makes for a seamless installation.
A seamless sign installation
We do not need to drill anything through the front of the sign—adhesives like silicone help maintain a tighter bond between the back of the sign and the wall. Making dimensional signs by hand is our specialty. In summary, if you choose us to create a good gold leaf sign for your business, you will be sure to see more visitors and guests quickly! Whenever we make a new sign, good things are sure to follow.
We can use different materials to make a gold leaf sign
Our customers demand the best quality signs, and we agree, only the best signs are worth making. Choose between HDU, cedar, teak, mahogany, steel, aluminum, and bronze signage. Your business entrance will come to life with signs that attract attention. Each option has its costs and benefits. Usually, our clients have some idea of what they would like, based on other signs they have seen online or on the street. Just send us a photo or sketch of what you think might look good at your business. In turn, we'll create a custom drawing to suit you.
Choosing the right font
Likewise, we'll provide you with a font portfolio. Choosing a font can be difficult, so we'll narrow it down to fonts that look good. Looking at only good fonts makes the process less confusing for you. Finally, scale drawings with measurements and colors will be revised and finalized as per your requests. We do not skip any part of the process. With great intention, we'll make your design right, just the way you want.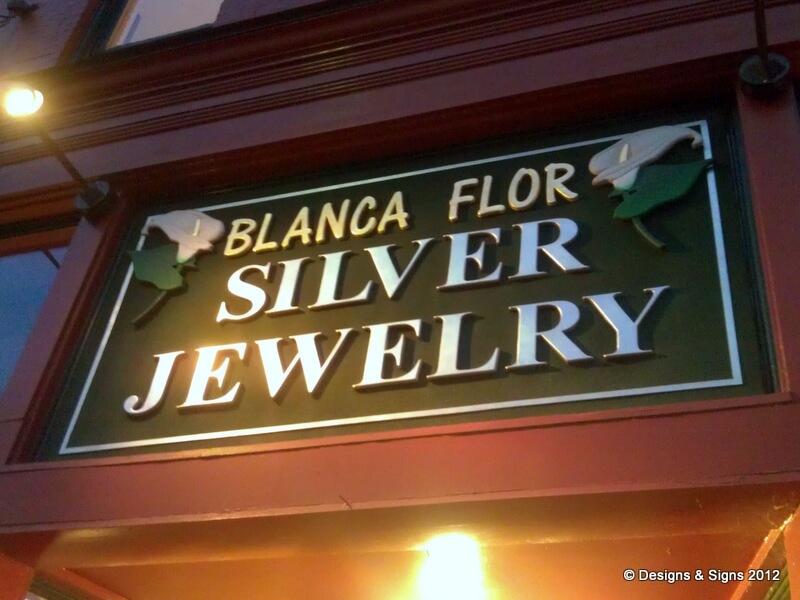 We decorated this sign with palladium leaf.
A Hand Carved Mahogany Sign for this residential home looks excellent. We carved the letters with a chisel and finished them with brilliant palladium leaf.
Jewelry making flourishes in the new world.

The Spanish established an empire to seize gold from South America, and jewelry played a major role in that. 5000 years ago, jewelry making developed in Central and South America. Aztecs, Mixtecs, Mayansan>, and many Andean cultures, such as the Mochica of Peru, used readily available gold to create jewelry.

In the Mochica culture, goldwork flourished. Instead of simple metalwork, they were making masterful pieces of jewelry. The Mochica artists used ">turquoisean>, mother of pearl, shells, and amethyst inlays. An ancient Peruvian nose and ear ornament, chest plate, small container, and whistle that are considered masterpieces are examples of ancient Peruvian art.
The Aztec traditions continue.

According to the Aztec tradition, people wore only gold jewelry as it showed their power, wealth, and rank to the world. The Aztecs made their jewelry primarily from gold, and the feathers of the Quetzal bird, and other birds, were usually incorporated into the jewelry. According to ancient Greek culture, the more y">jewelry a nobleman wore, the more valuable he seemed to be. Emperors and High Priests wore jewelry when making public appearances. However, gold was inferior to feathers and jade. High priests used jewelry to appease the gods. Aztecs used ceremonial daggers encrusted with gems.
Please contact us soon for a quote!
We invite you to spend some time on our website, reviewing photos of our various products and services. Hopefully, you will find what you need. If you have any questions, please send us an email or call us. Please leave a message, as we only check our voicemails once or twice per day. Making your new gold leaf sign would be a great privilege.
We look forward to hearing from you and working with you to create something extraordinary for your home, business, community, or yacht!