Making a classy subdivision sign.
At Designs & Signs, we make the best-looking sandblasted signs for communities in Maryland, Virginia, and Washington, DC! We can blast your custom sign from cedar or HDU , and we will finish it with 23 karat Gold Leaf! We also make routed signs too! Westover Place required a simple classy subdivision sign; your guests should be able to find your community without getting lost. For certain, a good entrance sign will make your community entrance stand out along a crowded city street.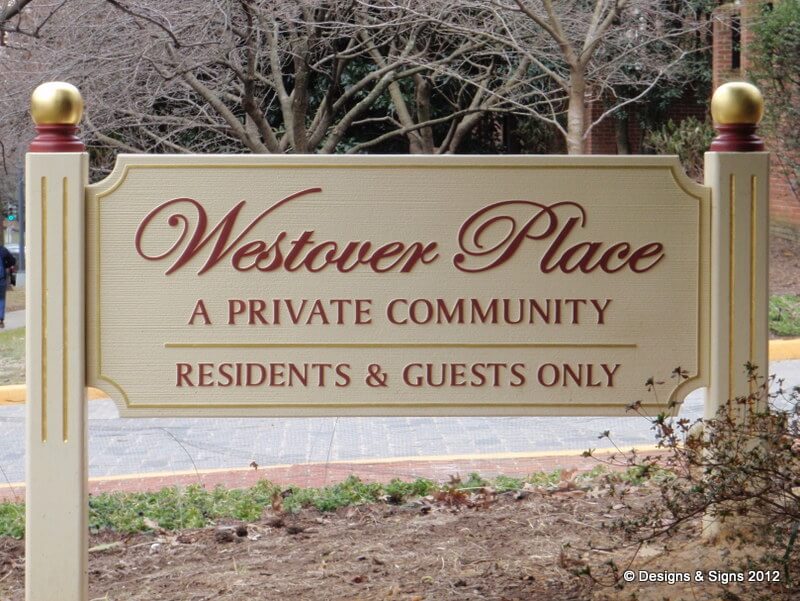 Our SANDBLASTED SIGNS Are THE BEST!
Sandblasted signse; we design your community entrance sign based on your original ideas. Perhaps you can provide us with a sketch or a photo of another sign that you like. We fabricated and installed this sign quickly. Usually, for a sign of this size, we would need about four weeks to make it. This double-sided HDU sign with a wood grain sandblasted background sets Westover Place apart from the surrounding communities. Guests and all other visitors will appreciate your effort. We always prime and paint HDU with premium Sherwin Williams exterior latex patin. Letters, finials, and trim always look better with a gold leaf treatment. Surely, there is nothing finer than a gold leaf letter to show off the name of your private community.