We make signs for HOAs & Property Managers too.
3D HDU Signs; we offer signs to local homeowners associations and property management companies. A sandblasted sign for The Landings in Annapolis, Maryland, we create original neighborhood entrance designs to make your subdivision stand out on a crowded street. If your sign does not catch the eye, guests will miss their turn. Whenever we make a sign for community entrances, we strive to create something memorable. Once your guests find the community, they should always return with ease, as your recognizable entry will be easy to identify from the busy road.
Making memorable 3D HDU Signs
We designed and carved these 3D HDU Signs at Designs & Signs in Edgewater, Maryland. The sign is high-density urethane, which is similar to cedar. We can cut it with CNC Machines, or we can sandblast it. It even works well when we shape it with hand tools. First, we apply a rubber mask to the HDU, using sandblasting equipment to cut away the exposed HDU. Finally, the background shows a faux wood grain texture.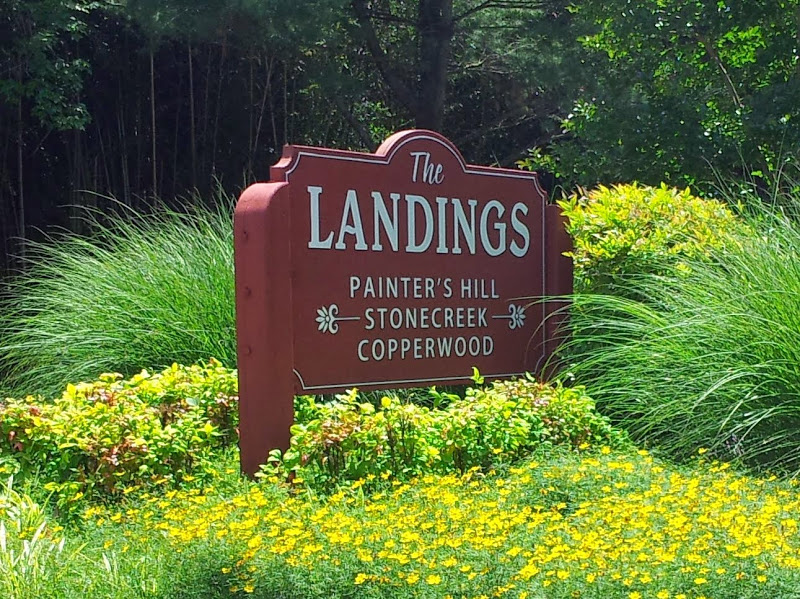 Lettering needs contrast
In most cases, the background of a sandblasted sign should be a darker color , while the raised letters and trim could be a bright color like white, or we can finish them with 23 karat gold leaf. Opposite colors help to create contrast and make the lettering more readable. In addition, there are two entrances to this community with signs on Forrest Drive and Hilltop Lane in Annapolis. Please take a moment to review our site, and we have posted many good photos of our sandblasted and community entrance signs. Don't hesitate to get in touch with us for a quote. Thank you!
Bigger, better 3D HDU Signs!
First of all, please know that you don't need the tallest entrance sign on the block to make a great first impression. However, it certainly won't hurt your appearance to go this extra mile. We installed a great sign at Twin Pines. With brick posts and a custom metal fence, this sign looks grand. Architectural post caps make this sign look even better! Follow the link below for photos and information about the project.