A Sandblasted Granite Sign for your Lobby
It is rare indeed that we can make a unique Sandblasted Granite Sign. We offer a wide variety of dimensional signs and sandblasted services. This sandblasted granite sign was made thirty years ago and still looks beautiful today. We also provide monument letter carving services. Please take a moment to review our site. We are always sharing so many new photos of sandblasted stone and other dimensional signs.
Polished granite makes a great sign.
Some materials look perfect from the start, without much work. Such is the case with polished granite. We mask it with rubber, and we blast it. The marbling in this stone does all of the work for us. The colors and gloss face of the stone does not require any further manipulation. This sign looks fantastic as soon as we remove the sandblast masking. In short, the artists cannot improve on what nature has made for us.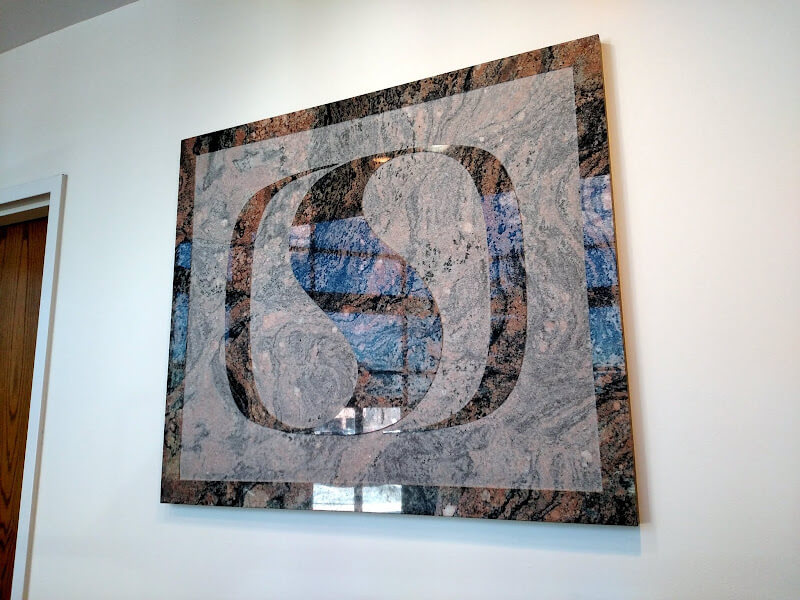 A wonderful Carved Marble Sign; it looks so lovely!
Indeed, you have an excellent idea for a sign like this. Perhaps, you desire an uncommon material too. Polished granite offers the unique one-of-a-kind look that you have imagined for so long. The marbling in this stone is original. No other sign can duplicate what we make for you today. Once we make a sign like this for you, it is yours forever. Nobody can make one just like it.
Indeed, we can make a sandblasted marble sign for you too. Call or send us a message online, and we'll give you a quote as fast as we can!