More parking garage murals in Baltimore, Maryland. Simple but handsome indeed!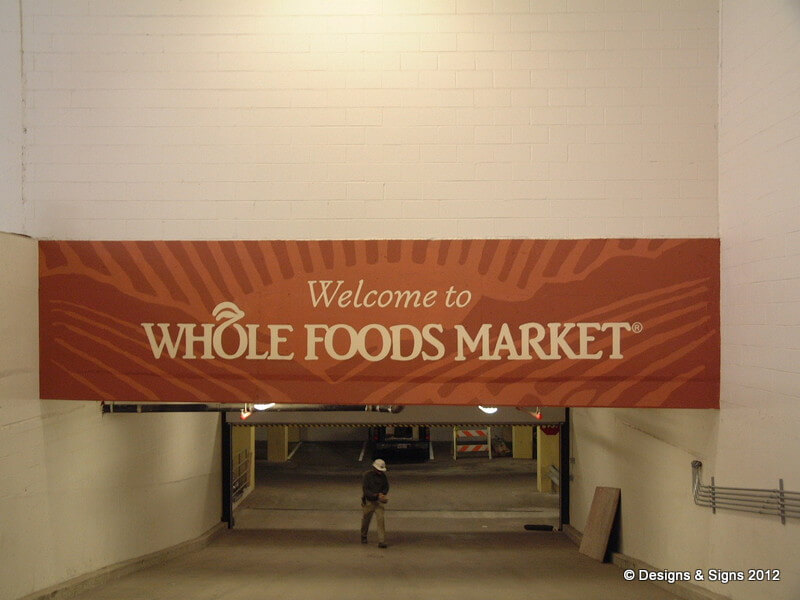 How do we make an ugly parking garage look happy and inviting? Murals of course…
A mural in the parking garage at Whole Foods Market in Fells Point, Baltimore City. First we paint the entire wall dark brown.  In some cases if the wall surface is too rough we will apply one coat of heavy white block filler first. This helps to smooth out the installation surface, which allows us to cut smoother lines with the lettering brush.
Before painting begins we use a pounce pattern to apply a thin charcoal outline of the fields, sky, and sun to the cinderblock wall. We then painted the rust brown landscape on the the wall. Between each layer of graphics and lettering the wall must dry completely. If we are using latex paints it is possible to finish all three layers in one day as the latex paints will dry quickly in the right climate. On rainy days the paint is not as agreeable and can take additional hours to dry due to high humidity, even if we are working indoors.
The final step is the same as the previous step. We use another pounce pattern to apply the outline of the lettering to the wall with charcoal dust.  Then the letters are painted by hand and the mural is finished!
Take a look at another mural we painted in Fells Point for Bond Street Wharf. It's truly amazing.