First of all, we love to do on-site Carved Lettering In Stone by hand. Our monument carving projects always look great. This detailed photo shows the engraved letters on a memorial wall at Emergency Operations Center in Howard County. We designed and carved fifteen stones at this location. Specifically, these special stones display the names of first responders who have lost their lives in service to the community.
A photo shows the details of Carved Lettering In Stone.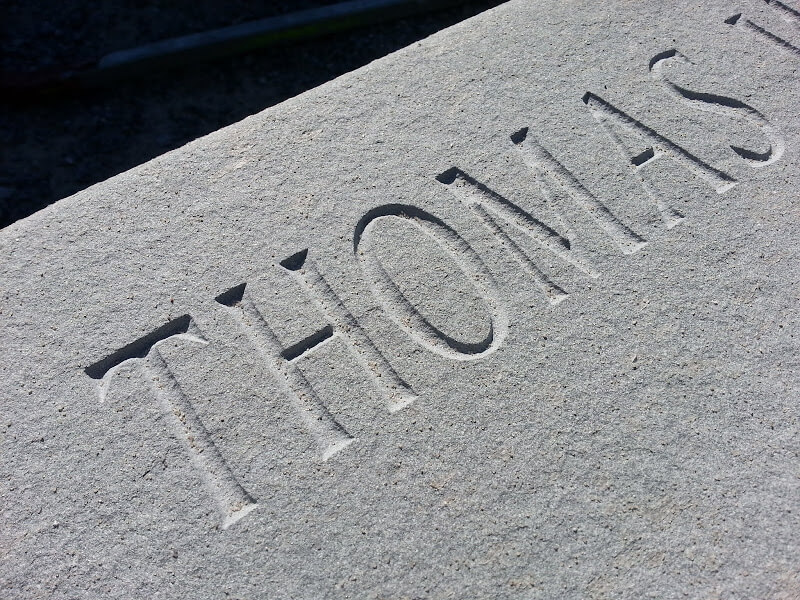 We use a pliable high tac rubber mask that holds well, even on rough surfaces like these. We can sandblast carved lettering in stone for any monument or granite surface. Is stone carving complicated? Yes, the process is time-consuming, so great patience is required to avoid mistakes. However, we ensure that the job is planned out well and runs smoothly on-site every time with proper specifications. Please take a moment to review more posts on our blog. Furthermore, if you have any questions, don't hesitate to get in touch with us!
We love Monument Carving and GILDING!
What is Sandblasting exactly?
Sandblasting
is the same as
abrasive
blasting, which is a general term for the process of smoothing, shaping, and cleaning a hard surface; more specifically, sandblasting is used to move solid particles across that surface at a high velocity. Consequently, the effect is similar to sandpaper but provides a more even finish with no problems at corners or crannies. Sandblasting can occur naturally, usually due to particles blown by wind causing aeolian erosion, or artificially, using compressed air. Benjamin Chew Tilghman patented an artificial sandblasting process on 18 October 1870.
A vital component of sandblasting equipment is a mixing chamber where sand and air are mixed. Fabricators direct particles toward the workpiece, and the mixture passes through a hand-held nozzle. In terms of shape, size, and material, nozzles are available in a wide variety. Boron carbide is a popular material for nozzles because it copes well with abrasive wear. Over time, nozzles expand due to high heat and pressure.