How do you put gold leaf onto a rough surface?
Designs & Signs finishes some Architectural Gilding at The Navy-Marine Corps Memorial Stadium in Annapolis, Maryland. We applied traditional gold leaf to carved monument letters. Specifically, these photos show both phases of a typical surface gilding project. First, we fill the letters with gesso to create a smooth surface. In contrast, a rough surface would be too difficult to work with because our gold leaf sheets are flat and very fragile.
Consequently, attempting to lay them onto a rough surface would be a failed endeavor. After that, when the gesso dries, we apply another adhesive layer to the letters, which we call size. Eventually, when the size begins to set, we place the gold leaf carefully by hand. The drying process lasts for about one hour or more, depending on weather conditions and the size composition. For this reason, we can only finish a few letters at a time. The job moves slowly. However, we do it right so that these letters will last many years.
With architectural gilding, timing is everything.
The timing of our gold leaf application is critical. Hence, we cannot overstate the importance of our many years of experience with monument gilding. First of all, if the size is too wet, the gold leaf will sink and crack. However, if the size is too dry, the gold leaf will not stick completely, and it will fail quickly during bad weather days. In these photos, you can see the difference between a finished gold leaf letter and a letter that has size but has not yet been gilded.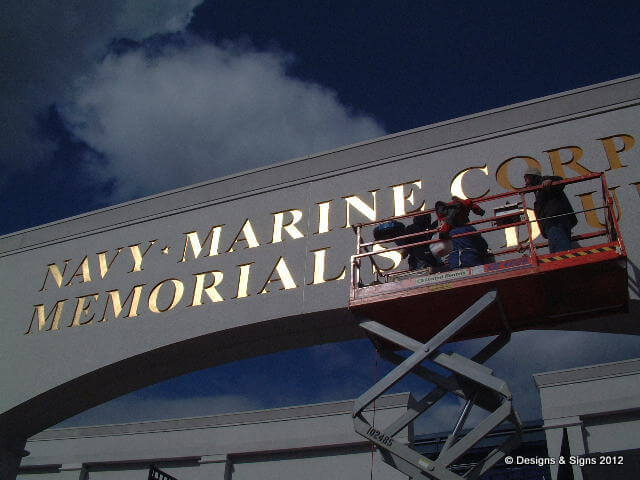 Monument Carving & Architectural Gilding, We do it all!
Our team is capable of handling your large blasting projects. However, not every project is well suited to the style or work we do. Therefore, don't hesitate to contact us if you have a blasting project that needs consideration. Maybe we can advise you. Possibly we can bid on the project , too, if it's a good fit for our team. Usually, we might be able to bid on your project by email. However, when it's time to proceed with your architectural gilding project, we will make a site visit to ensure that we can plan and execute our task successfully.
https://visitannapolis.org/discover/interests/navy-marine-corps-memorial-stadium