Faus antique signs look old but they're new.
We had a great time painting these excellent wooden signs for our friends in Florida. Faux Antique signs for Padgett Swann Machinery Company; we made these signs intended for display in the leading shop. By staining the planks first, we create a solid rustic backdrop. The driftwood grey planks frame the logo nicely.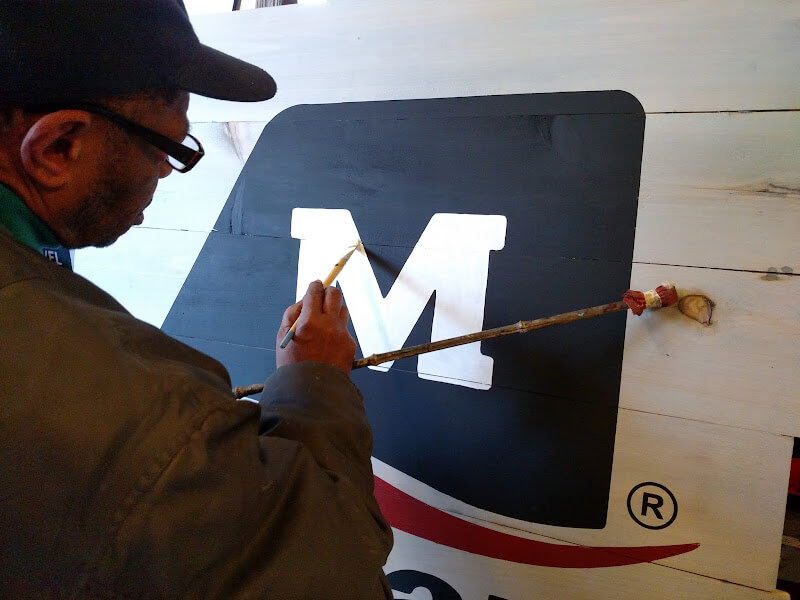 Painted faux antique signs are always fun to make. We used this same technique to produce an excellent entrance sign for Pit Boys, a popular spot for BBQ and blue crabs, right here in Annapolis. We also donated a great mural to the restaurant. It's their way of saying thank you to the Annapolis community for many years of patronage.
Who needs a wooden sign?
There are many uses for a good painted wooden sign. For example, wooden surfaces inside restaurants and markets offer us an excellent opportunity for stenciling and lettering by hand. As well, we have developed techniques for stenciling detailed images onto brick and even rough-cut wooden planks. A similar approach, we used it here to paint a detailed logo onto wooden crates at Whole Foods Market in Rockville.
Can we paint on rough surfaces?
Whenever you want a classic look, something traditional, something old but new, we can make it for you on almost any surface. So please give us a try. We are often able to find solutions to rough surfaces installations. Of course, it might require editing your image a bit. Still, indeed, we have a great chance of bringing your best mural ideas to life, even in challenging conditions.
Please reach out to us!
We are here to answer your questions every day. If you have spent any time on our site, surely you would want to know more about what we do. If so, then please email us or call anytime, we're here to help and we enjoy making new friends!