We stencil on rough surfaces.
Faux antique signs on wooden crates; we lettered these at Whole Foods Market in Rockville, Maryland. First, we stick a high-tack stencil to the surface of these wooden display bins. Then the paint is applied carefully in multiple coats to the exposed wood surface with a small stipple brush. Finally, we quickly remove the stencil leaving behind a beautiful faux antique painted sign. Designs & Signs developed this application technique specifically for painted installations on rough wood surfaces. Rustic signs are great because they remind us of the way things used to be!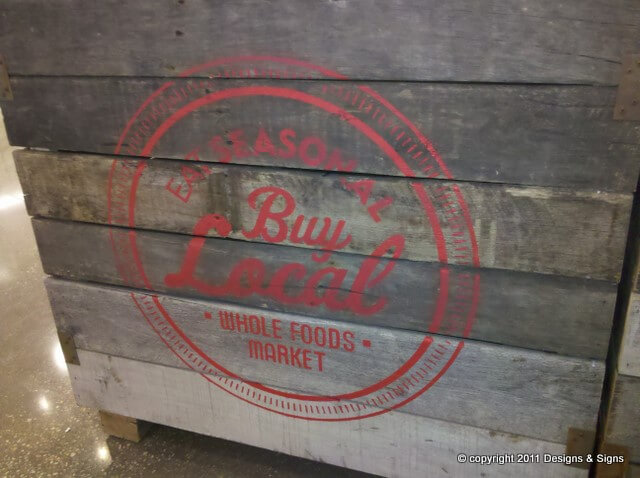 Murals are warm & welcoming to guests.
Through the MId-Atlantic region, Designs & Signs have painted wall murals inside of stores, shops, hospitals, and even in some parking garages. Our services provide your customers with a sense of belonging. Murals provide warmth, they are welcoming and they make everyone feel at ease. In barren parking garages, murals add life and direction to an otherwise drab cold space. In a shop, a pretty image of fruits and vegetables could encourage your customers to buy something new today. A mural well placed on the exterior of any facility is sure to attract attention. If people on the street can see where you are and what you do, they'll be far more likely to patronize your business. If you need help with any mural project, please feel free to contact us. Hopefully, we can help!