Faux antique food signs are fun.
Ice cream signs for your backyard or home. Maybe these ice cream signs would look good in your kitchen. Indeed, these faux antique ice cream signs will make you want to get yourself a double scoop of your favorite flavor. Occasionally, we make fun of tiki bar-style signs for local restaurants , or we give these to friends as gifts. However, hand-painted signs are original, and they sure do look cool!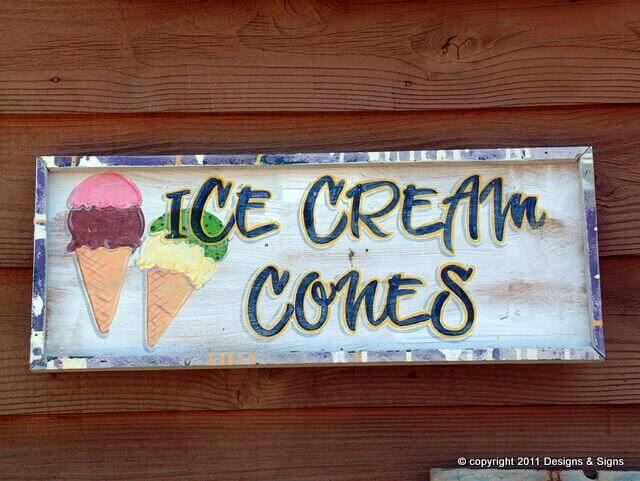 Faux antique signs, painted by hand. Ice cream cones, yum! Please tell us your idea , and we'll create one of these original signs just for you. These faux antique signs can be made quickly and shipped directly to you!
How would you describe ice cream?
First of all, ice cream is delicious. It's cool and refreshing. It melts in your mouth. Ice cream makes you feel good on a hot sunny day. Children love ice cream. It is part of their way of life. Their imaginations run wild with all the flavors to consider. Ice cream is nostalgic because it reminds us all of being young again. Who doesn't love ice cream? We sure do, and we're not too picky about our flavors. When I eat ice cream often, I prefer to try something new. Perhaps pistachio or some crazy combination of flavors. The best thing about ice cream is that you can always try another flavor tomorrow!