Painted lettering on brick with stencils
Always looking great; Architectural mural installed by Designs & Signs at Whole Foods Market in Wexford, PA. Designs & Signs has installed many painted murals at many Whole Foods Market stores throughout the Mid-Atlantic Region, designed by Whole Foods Market. We rendered this Painted Lettering on Brick outdoors in the entrance vestibule.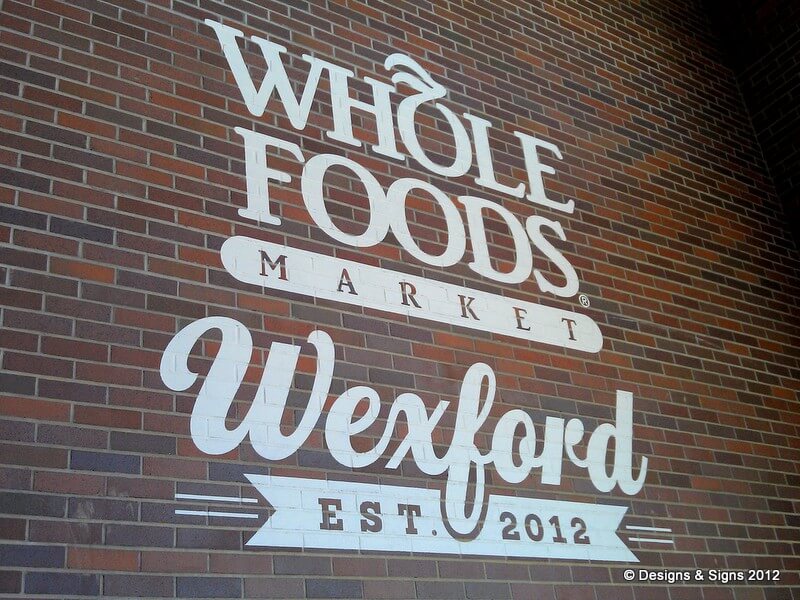 We decided to use a brick stencil because of the smaller letters at the bottom of both logos. It worked perfectly. The lines are sharp because we can stipple this logo with a dry brush. When working with stencils, it's crucial to work light with the paint and build dry coats. A wet brush or wet roller will cause the paint to bleed under the stencil's edge, and the lettering will be ruined. Of course, we can touch up our mistakes on a painted wall, but there is no room for error on exposed brick.
Each mural presents unique challenges.
Each mural project comes with its challenges and special needs. Rarely have we come across a situation where we could not find a way to do the job. Architects and designers sometimes push the limits beyond what is practically capable. However, here at Whole Foods, we have always found their designs well suited for mural application indoors and outdoors.
Contact us today!
If you need a quote for Painted Lettering on Brick, please contact us today! We will be glad to help you achieve tremendous results.